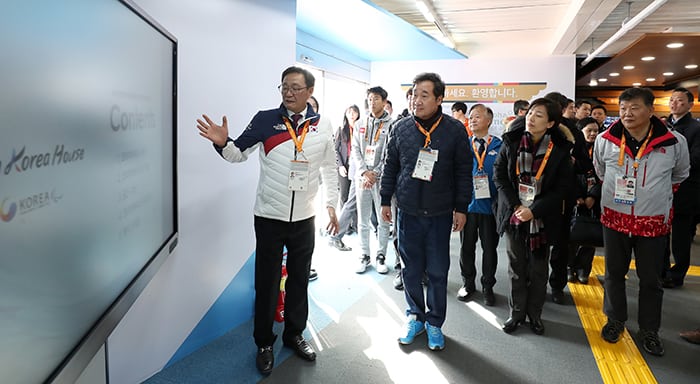 By Korea.net PyeongChang Special Report Team
Photos = Jeon Han
Gangneung | March 10, 2018
Team Korea House at the Gangneung Olympic Park, which provides leisure space for the nation's Paralympic athletes, and which was also open during the PyeongChang 2018 Olympic Winter Games, has re-opened on March 10 after a brief refurbishment.
Second Vice Minister of Culture, Sports and Tourism Roh Tae-kang, President Lee Myung-ho of the Korea Paralympic Committee, and chef de mission for the Korean Paralympic delegation, Bae Dong-hyun, visited Team Korea House, which will be open until March 18.
Team Korea House consists of facilities for visitors to help them experience Korean tourism, traditions and pop culture. There's the Korea promotional hall and an open studio that specializes in broadcasting, and facilities for the national athletes, such as a multimedia room to analyze their performances, and some lounges.
After the refurbishments to make the facilities more usable during the Paralympics, wheelchair access was improved and braille signs and other facilities were also set up.
Vice Minister Roh said, "We tried to make a Team Korea House that is suitable for a world-class para sport facility. Team Korea House is a major venue that not only promotes Korea, but also supports our Paralympic athletes. I hope that our athletes and their friends and family members can feel comfortable here, so that it can help improve their condition for the Games."
Jung Jae-joon, the chief manager at Team Korea House, said, "Everyone who visits the Paralympics are welcome to visit Team Korea House. Hopefully, it will become a source of opportunity to understand better about disability sport."
twkim0717@korea.kr