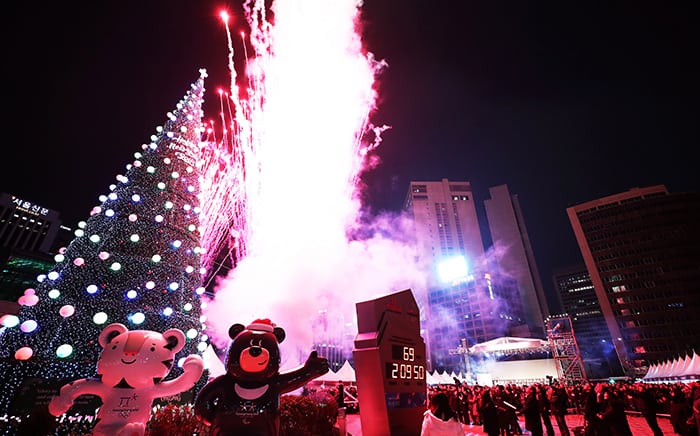 By Xu Aiying and Kim Young Shin 
Photos = Jeon Han 
Seoul l Dec. 2, 2017
A Christmas tree has brought light to Seoul Plaza.
The giant Christmas tree was lit up with flashes of fire crackers and LEDs during the lighting ceremony on Dec. 2. A couple thousand of guests, including First Vice Minister of Culture, Sports and Tourism Na Jong-min, Jordanian Ambassador to Seoul Adel Adaileh, Chargé d'Affaires at the U.S. Embassy Marc Knapper, as well as police officers, fire fighters, taxi drivers, soldiers, North Korean defectors and immigrants, attended the ceremony.
The tree, 25 meters high and 12 meters wide at the base, was placed next to statues of Soohorang the white tiger and Bandabi the Asiatic black bear, the official mascots for the PyeongChang 2018 Olympic and Paralympic Winter Games, and a clock tower that's counting down the days to the Games' Opening Ceremony.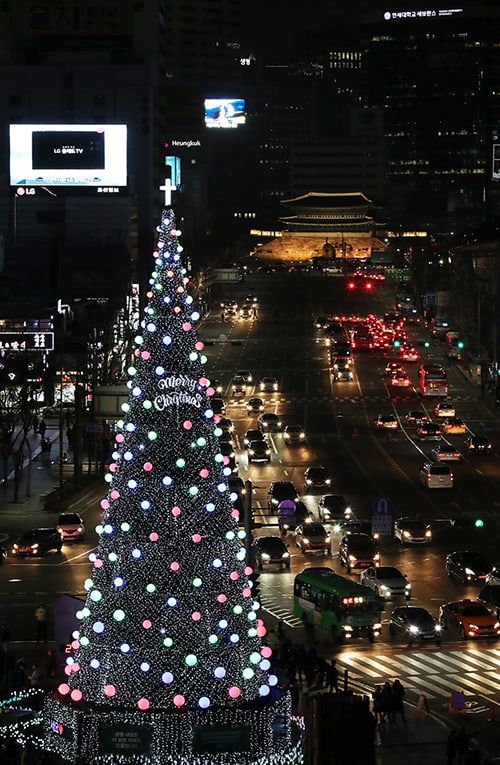 A Christmas tree at Seoul Plaza has been set up every winter for 16 years so far, ever since 2002, welcoming the winter and yearly holidays. It has become a must-see attraction, not just for locals but for tourists, too.
The tree will be lit every evening starting at 5:30 p.m. until Jan. 7, 2018.
xuaiy@korea.kr