By Min Yea-Ji and Son Gina 
A 90-year-old woman, Lee Yong-soo, who was a victim of sex slavery as enforced by the Imperial Japanese government during colonial times and World War II, what is, in fact, the root of the global #MeToo movement, visited the French House of Commons in Paris to mark International Women's Day on March 8, testifying about her terrible devastation.
She testified about the inhumane treatment to which she and others were subjected and the numerous violations of human rights that she and others suffered. She was forcibly taken by the Japanese military at the age of 15, and was enslaved on board warships housed some 300 soldiers and in a suicide commando unit stationed in Taiwan.
Speaking through tears, she said, "When I rejected the demands of the soldiers, I was tortured with electricity. There was a clot of blood coming out of my body. It's still too hard to tell what happened then."
"I am a living witness to history," she said, emphasizing that, "I demand Japan's official apology and legal compensation."
The members of the French House of Commons who heard her testimony truly felt the weight of her suffering.
"Japan must acknowledge the past and apologize sincerely," said member of parliament Joachim Son-Forget, a Korean adoptee.
Senator Catherine Dumas said, "I was impressed by her courageous and decisive testimony on International Women's Day. I will inform other French female politicians about this painful incident that is not known in France."
The testimony was confirmed by request of former French State Reform and Simplification Minister Jean-Vincent Place, another Korean adoptee, who visited the House of Sharing in Korea on Feb. 27 as Gwangmyeong Mayor Yang Ki-dae's guest.
Mayor Yang visited UNESCO headquarters and the French House of Commons with former minister Jean-Vincent Place when UNESCO shelved the registration of the records of the so-called "comfort women" on Memory of the World day in late October last year.
After her visit to the House of Commons, Lee Yong-soo, along with Mayor Yang, and the head of the House of Sharing, Ahn Shin Kwon, picketed in front of UNESCO headquarters in Paris, calling for the registration of all "comfort women" records.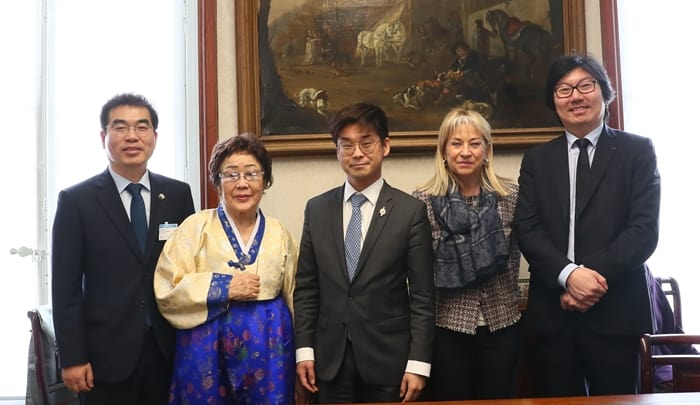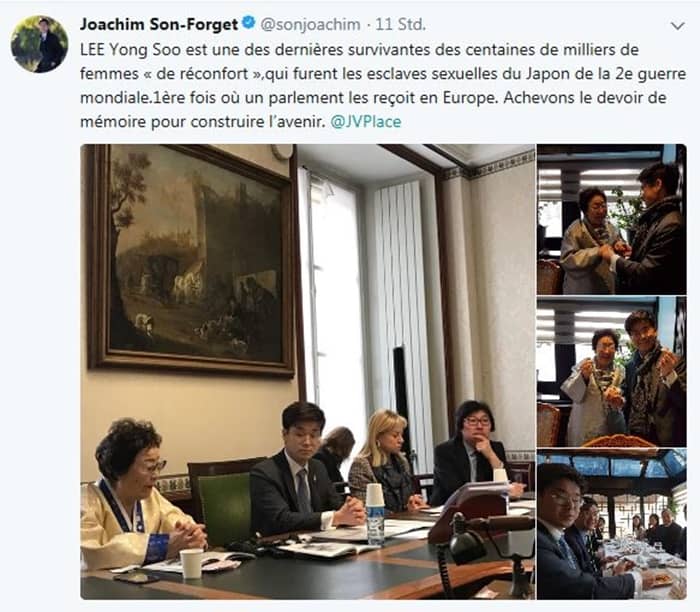 jesimin@korea.kr