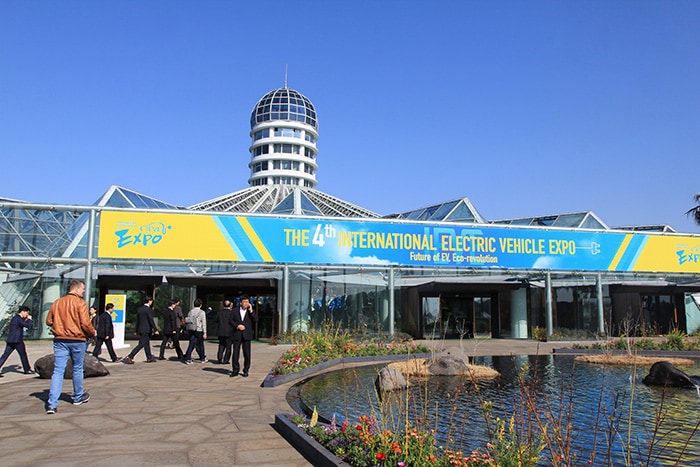 Blue skies and colorful flowers at the Yeomiji Botanical Gardens on Jeju Island provided the perfect setting for the fourth International Electric Vehicle Expo, which promotes environment-friendly transportation technology.
Under the theme of "the future and eco-revolution of electric vehicles," 155 manufacturers of sedans, compact cars and scooters that all use electricity, as well as makers of electric vehicle chargers and batteries, participated this year.
The companies focused on showcasing the improved electric car technology, such as longer driving ranges and shortened charging times.
At the exhibition hall, Chevrolet's new electric car, the Bolt EV, with a much larger driving range of 383 km on a single charge, was first introduced to Korean consumers. It currently has the longest driving range among electric vehicles sold in Korea.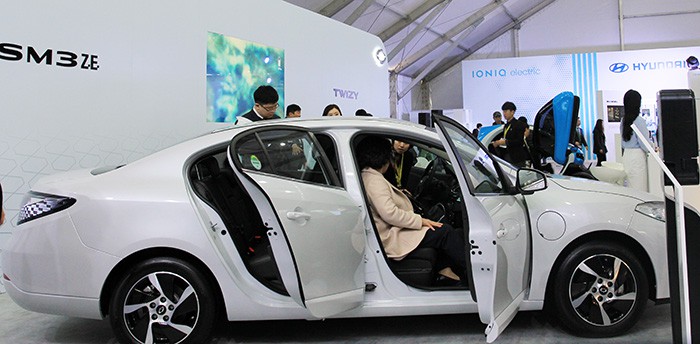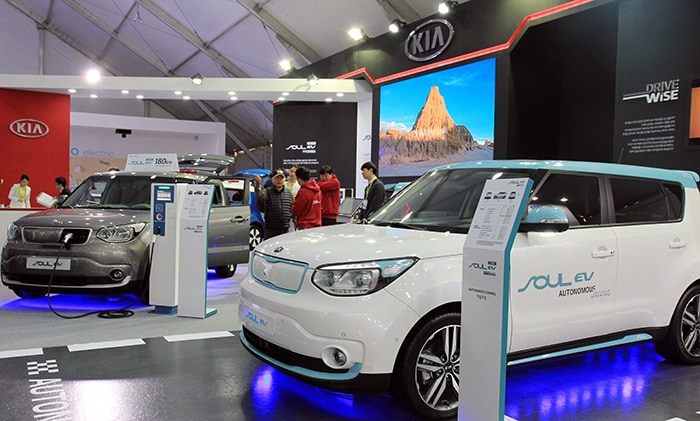 Hyundai Motor also displayed its new Ionic Electric Trim I, a relatively more inexpensive model compared to other electric cars. Kia Motors exhibited its new Soul EV with a larger battery capacity, which allows 20 percent more driving range.
There were also the Renault Samsung Motor SM3 Z.E., the compact electric car Twizy, the Brighsun EV Korea and Woojin Industrial System's electric buses. Some companies were showing off their electric tractors and agricultural vehicles, too.
Visitors were able to look inside the cars and listen to the details of the cars from the exhibitors.
"I came here to learn more about electric cars," said Gabrielle Buechner from Munich, Germany. "The compact cars I saw at the exhibition seem to be very convenient to drive in my city because there are not many parking places there," she said.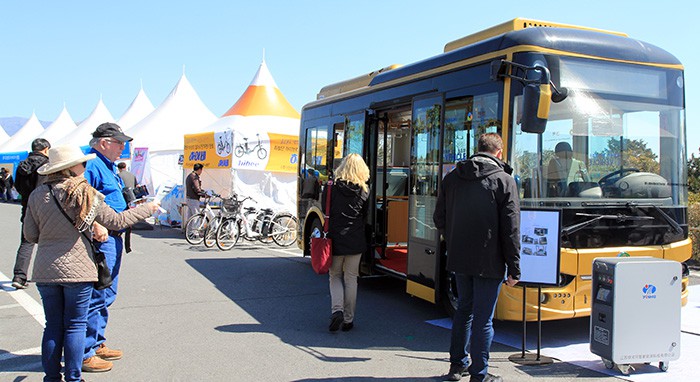 During the opening ceremony, Minister of Trade, Industry and Energy Joo Hyunghwan said, "For the future of the car industry, there shouldn't be any selfish rivalries for first place, but instead a collaborative competition for everyone's advancement. The Korean government promises to act as an outstanding promoter and as a catalyst for the electric vehicle industry."
By Kim Young Shin
Korea.net Staff Writer
Photos: Kim Young Shin
ysk1111@korea.kr