By Lee Hana
Seoul | July 4, 2018
First lady Kim Jung-sook spent an afternoon watching a Bollywood film with a group of Indian students studying in Korea. The event was arranged in the run up to President Moon Jae-in's state visit to India next week from July 8 to 11.
The screening took place at an art-house cinema in Sinsa-dong in southern Seoul on July 4. Fifteen Indian students pursuing their studies in fields such as electronic engineering, Korean studies, dentistry, agricultural chemistry and international relations came to meet the first lady.
The students, who came dressed in traditional Indian garb, warmly welcomed the first lady, who greeted the group with the greeting, "Namaste." The group watched the 2016 film "Dangal," a Hindi-language biographical sports drama about India's first world-class female wrestlers.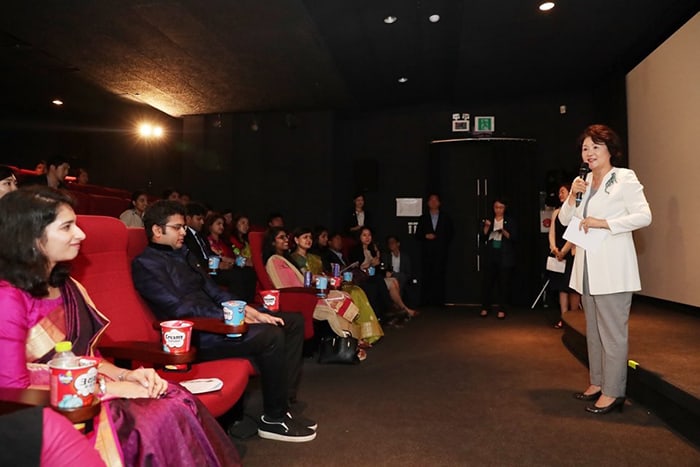 After the screening, the first lady said that she had shed many tears watching the father's love for his daughter in the movie, and seeing the daughter's devotion to her father. "Seeing how similar the parent-child relationship is for Indian and Korean families made me feel much closer to Indians in general," she said.
"Our state visit to India next week will focus on some of the values that our two countries cherish, such as economic cooperation, human rights and protecting the environment. At this time, we hope to further solidify our partnership and boost our bilateral trade and investments."
"What I want to say to those of you here as representatives of Indian students studying abroad in Korea is that I hope your efforts to bridge our two countries through education will serve as a sturdy foundation for the future of our partnership," she said.
Surabhi Kulkarni, a graduate student in Korean language and literature at Kyung Hee University and who delivered a speech after the movie, said, "Studying and living in Korea has taught me to understand and respect different languages and cultures. I hope more Koreans will visit India and experience its heritage, and that our two countries will become even closer in the years ahead."
Poulami Chatterjee, a Ph.D. student in agricultural chemistry at Chungbuk National University, said that she hopes that President Moon's visit to India will further develop the relationship between the two countries. "Just as Indians are interested in learning Korean, there are many Korean students who want to learn Sanskrit. I hope these kinds of exchanges will continue," she said.
The day's event was covered by local Indian media, including India Today and the Times of India, and will be broadcast on July 8 ahead of President Moon's state visit to India that day.