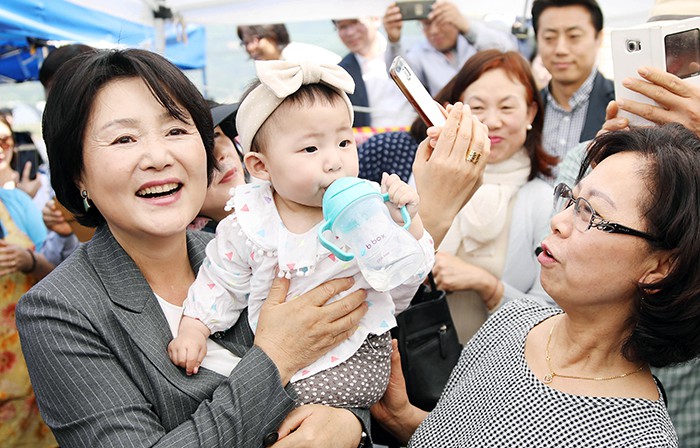 By Jeon Han and Sohn JiAe
Photos = Cheong Wa Dae
May 19, 2017 | Cheong Wa Dae
First lady Kim Jung-sook visited President Moon Jae-in's hometown as her first official act as first lady.
On May 18, Kim paid a visit to Namjeong Village on Geojedo Island in Gyeongsangnam-do Province, and met with an elderly resident, Chu Gyeong-soon, who is said to have helped with the president's birth and to have cut his umbilical cord.
"My mother-in-law came down from Pyongannam-do Province in the North to this island and lived in such poverty, even without any cauldron or pot. Although they were so poor, the villagers here tried to help her out, giving her a pot or anything that they could. She and my husband often said that they feel so grateful when they think about the people and their help," said the first lady while talking with 30 or so local residents.
"Geojedo (거제도) means, 'to save and honor the people,'" said Kim. "My husband often expresses the gratitude he has always felt toward the people of this island."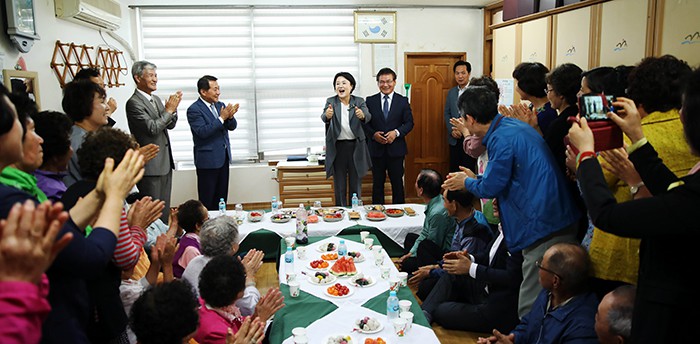 The first lady then moved on to Maegok Village in Yangsan-si, where the president and first lady own a home. "The first time we came to this town, we encountered a group of residents working very hard. I thought that I wanted to live in such an environment," she said. "In five years' time, when we have to leave the presidential residence of Cheong Wa Dae, my husband and I will come back here to live. Be as good as you look now and stay in good shape until then. I will be back with the same mindset then, that I have now," she said.
hanjeon@korea.kr