By Lee Kyoung Mi and Lee Hana
Seoul | April 1, 2018
The Cultural Heritage Administration (CHA) appointed its first non-Korean honorary gatekeeper to guard Gyeongbokgung Palace on April 1. The appointee is Mark Tetto, a U.S. citizen who has been working to promote Korea through his many activities.
The CHA has been holding ceremonies to appoint honorary gatekeepers at Gyeongbokgung since 2012. At the event, the "king" formally appoints the individual, whose job is to protect the royal family and citizens, followed by a congratulatory ceremony.
In previous years, the honorary title has been given to modern-day gatekeepers, such as firefighters and police officers. Starting this year, the CHA decided to expand the scope of the role to include individuals that have a keen interest in Korean heritage and traditions, and who work to preserve the country's cultural heritage.
Tetto, this year's honorary gatekeeper, is a businessman and local TV personality. He recently purchased and donated a Goryeo (918-1392) Buddhist statue and artifact to the National Museum of Korea, items that had been taken by Japanese colonial authorities. He has also given several talks about Korean traditions and heritage.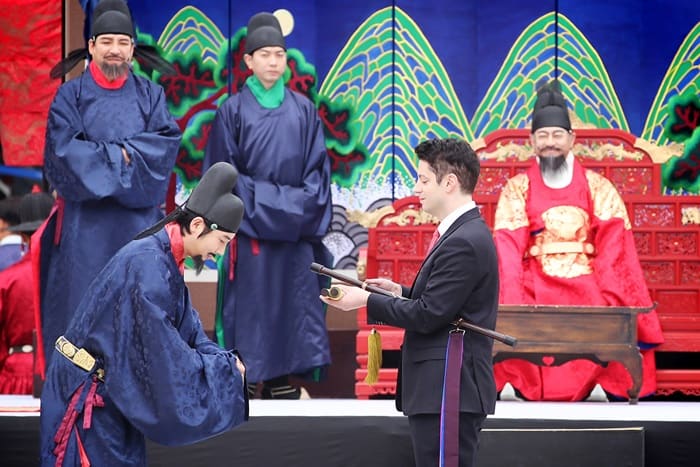 Tetto, who was more than happy to take on the role, said that he felt honored to have been appointed as the first non-Korean gatekeeper.
Tetto said that he fell in love with traditional Korea after he started living in a Hanok home around two and a half years ago. "Korean culture is worth being proud of, and should be promoted all around the world," he said.
Adding that he lives right around the corner from Gyeongbokgung Palace, in the Bukchon Hanok Village, Tetto promised to keep an eye on the palace grounds every day on his daily commute.
km137426@korea.kr