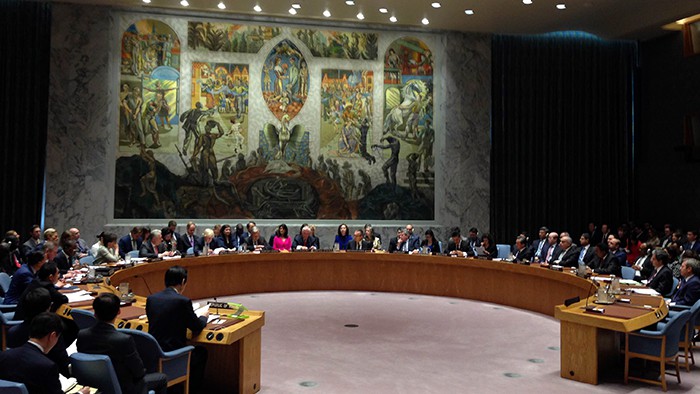 By Lee Hana
"Our goal is the complete, verifiable and irreversible dismantlement of the North Korean nuclear weapons and missile programs," said Minister of Foreign Affairs Yun Byung-se during a ministerial meeting of the Security Council where participants discussed the denuclearization of North Korea, at United Nations (U.N.) headquarters in New York on April 28.
"We must once and for all break this vicious cycle of provocation-negotiation-provocation and of rewarding North Korea for bad behavior. A nuclear-armed North Korea significantly disrupts the security landscape in Northeast Asia and the world," said Minister Yun.
Korea's top diplomat continued, saying that Pyongyang's nuclear weapons capability "will increase the risk of North Korean nuclear material or related technologies falling into the hands of terrorists. In order to avoid this nightmare scenario, we must act now. We are racing against time."
"Security Council Resolutions No. 2270 and 2321 are milestone measures that illustrate such a new approach. Based on these most comprehensive and robust resolutions, the international community has built and solidified a united front against North Korea over the past year, and it must sustain efforts to thoroughly implement these resolutions," he said. "Moreover, the Security Council must discuss additional punitive measures that could be taken proactively against future provocations, not reactively, as has been the case up until now."
Finally, the minister said that "in dealing with the North Korean nuclear weapons issue, we must not lose sight of the other serious threats emanating from North Korea's chemical and biological weapons programs."
"In this regard, I welcome the joint letter by U.N. Secretary-General Antonio Guterres and Director General Ahmet Uzumcu of the Organisation for the Prohibition of Chemical Weapons (OPCW), calling upon North Korea to accede to the Chemical Weapons Convention (CWC)," he said.
hlee10@korea.kr