By Xu Aiying and Hahm Hee-eun 
At Cheong Wa Dae, disposable paper cups are out, and instead more and more people are using ceramic coffee cups and portable tumblers. At the National Museum of Korea, single-use plastic covers for wet umbrellas are now nowhere to be seen. Instead, multi-use covers for wet umbrellas, shaped like leaves, are hanging from tree-shaped hooks at the entrances. Ever since public organizations in Korea started to actively reduce the use of single-use, disposable products, everyday life across the country has become much more green and much more eco-friendly.
The Ministry of Environment announced on July 1 that it is preparing official guidelines for the government and public organizations to reduce the use of single-use, disposable products.
The guidelines note that disposable cups and plastic bottles shouldn't be used in the office, and multi-use products, such as ceramic coffee cups and portable tumblers, are encouraged to be used during conferences or other events. Particularly for outdoor events, drinking fountains are to be installed. When purchasing goods, recyclable products should be preferred over disposable products, and a machine for drying umbrellas is recommended instead of using single-use, plastic umbrella covers.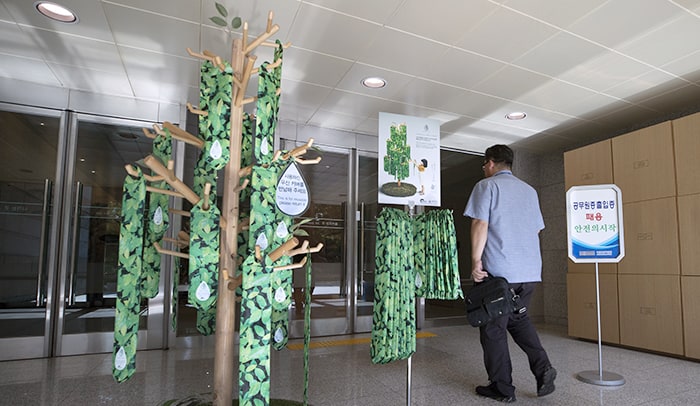 Following the guidelines from the Ministry of Environment, governments and public organizations have now actively started to reduce the use of single-use non-recyclable products.
Cheong Wa Dae recently changed its main souvenir to an eco-friendly mug, and staff there have started to use personal mugs or cups during meetings. Moreover, the president's office decided to replace 20 old, high-mileage cars and trucks with a range of eco-friendly vehicles that run on hydrogen or electricity.
Starting on June 25, the National Museum of Korea has begun to provide re-useable covers for wet umbrellas at the entrance to its permanent exhibition hall, at the children's museum and at its office wing. As visitors enter the building, they can grab one of the re-useable covers that are hanging on tree-shaped hooks to cover their wet umbrella, and when they leave they can replace the covers on the tree hooks, allowing others to use the covers again afterward. Park Jung-yeol, an officer for administrative assistance at the National Museum of Korea, said, "Although it could be inconvenient to return the recyclable umbrella bag, visitors and employees tend to generally be satisfied that they can participate in reducing the use of one-time disposable products."
Private businesses are also taking part in reducing the use of plastic bags.
Paris Baguette, a coffee and bakery chain that uses a large amount of plastic wrappings, single-use cups and straws, has decided to cut more than 90 percent of its plastic bag use, and 30 percent of its plastic straw use, by the end of the year. It is also developing paper straws and portable cup lids without straws to use them at its 3,400 outlets nationwide.
To celebrate International Plastic Bag Free Day on July 3, Paris Baguette didn't use any plastic bags at most of its stores, and instead provided paper bags.
Due to their widespread use, it might be challenging to immediately remove all one-time, disposable products. However, such campaigns are likely to spread as people everywhere start to realize the need to reduce their use of disposable products.
Michael Reiterer, the EU ambassador to Korea, visited the coffee shop and bakery with a canvas tote bag that day. He said, "Watching Korea's private sector actively introduce recyclable paper bags makes me feel that we're approaching one step closer to environmental protection. I hope that more companies will voluntarily participate in reducing the use of single-use, disposable products, so that they can induce consumers to also actively take part in the movement."
xuaiy@korea.kr