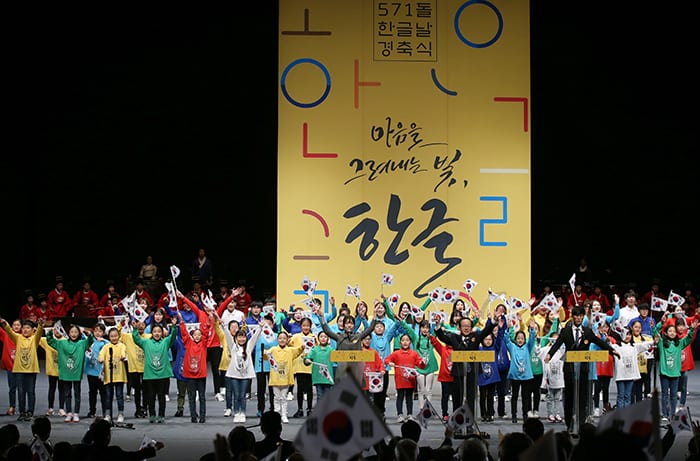 By Min Yea-Ji and Sohn JiAe
Photos = Jeon Han
Seoul l Oct. 9, 2017
"Hangeul is the greatest gift that has been given to us, as it is more than just a writing system."
Prime Minister Lee Nak-yon defined the Korean alphabet this way during a celebration to mark the 571st Hangeul Day at the Sejong Center for the Performing Arts on Oct. 9.
"Hangeul Day is the only day of its kind anywhere in the world. Many countries around the world have a day to celebrate their foundation or independence, but only Korea has a day designated as a national holiday for the creation of Hangeul," stressed the prime minister.
"Among all the languages that are spoken around the world, only the Korean writing system gives us a clear clue as to who created it and when; as to how and why it was created," he added.
He continued to say that Hangeul, which has made Korea into the country with the highest rate of literacy in the world, is a legacy that represents our nation and a gift that has kept alive our history and stories.
Pointing out that worldwide interest in the Korean language has grown over recent years, the prime minister said, "A growing number of countries choose Hangeul as a second foreign language." As a good example, he cited the rising number of non-Koreans taking the Test of Proficiency in Korean (TOPIK) exam and taking Korean language classes at King Sejong Institutes around the world.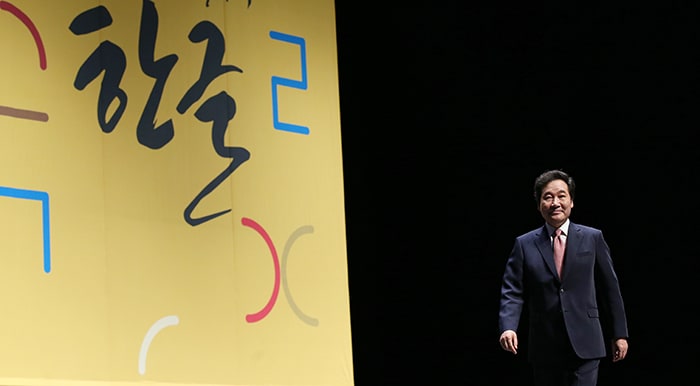 "The war of words over the sovereignty of territory are getting harsher these days. King Sejong the Great, the creator of Hangeul, might have hoped that his descendants would exchange refined and heart-warming words with each other, enjoying a peaceful and well-off life," he said. "Hopefully, the two Koreas — the South and the North — which use the same Hangeul alphabet, are determined today and together to continue the hopes of King Sejong."
Prior to his speech to more than 3,000 attendees at the event, including Minister of the Interior and Safety Kim Boo Kyum and Minister of Culture, Sports and Tourism Do Jongwhan, the prime minister awarded certificates and citations to eight groups and individuals, including Professor Song Min from Kookmin University and Professor Antonio Jose Domenech del Rio at the University of Malaga in Spain, both of whom have contributed to the development of the Korean language.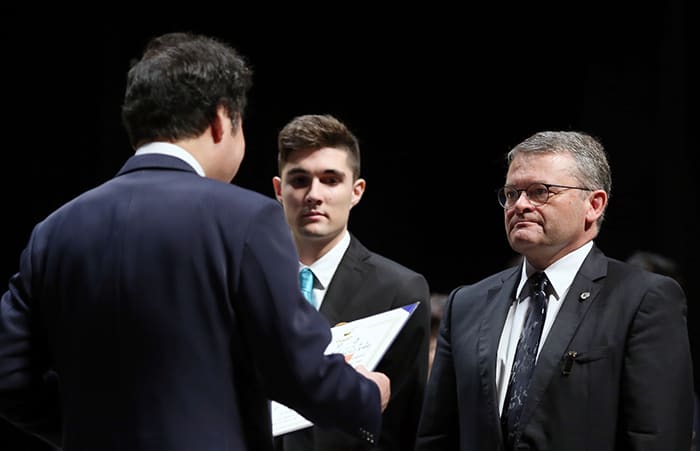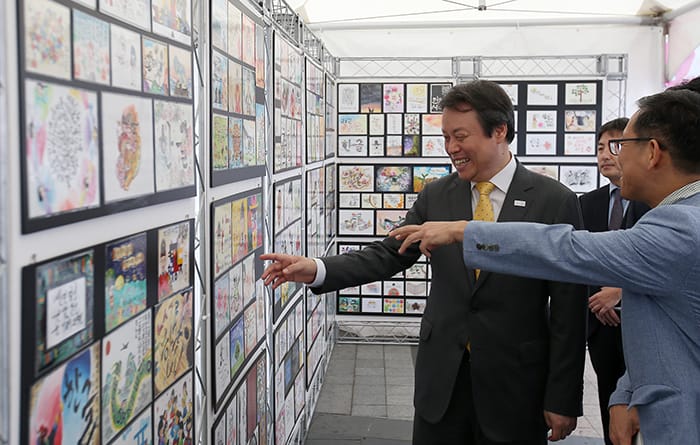 jesimin@korea.kr