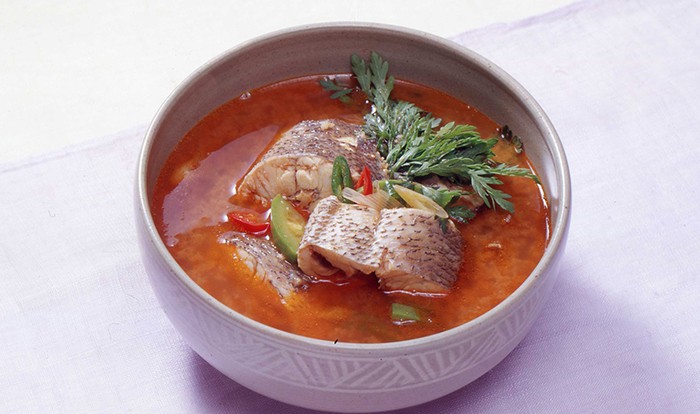 By Kim Young Shin 
Photos = Institute of Traditional Korean Food
The most well-known Korean dish to help beat the summer heat is samgyetang ginseng chicken soup (삼계탕). Beyond this one famous dish, however, there are many other delicious Korean foods that help to ward off summer heat stroke.
As the Korean Peninsula is surrounded by sea on three sides, Korean cuisine has developed a wide range of seafood dishes, and many are considered to be official summer food, like mineo croaker fish (민어), getjangeo pike eel (갯장어) and jeonbok abalone (전복).
These delicious ingredients have been used for many centuries, with records going back to the "Annals of the Joseon Dynasty," the "Joseon Wangjosilok" (조선왕조실록). The National Institute of Korean History has a searchable, digital version of the book online, and if you search for the Chinese characters for mineo, you get a total of 54 results between the years 1424 and 1899. The croaker fish was used in the king's meals and was given to bureaucrats as a reward. The best-known Joseon-era medical book, the "Dongui Bogam" (동의보감, 東醫寶鑑), also describes the fish as "having a sweet flavor."
Mineo croaker fish are mainly caught in June and July in the fisheries off Mokpo, a southern port city, and they are to this day still considered to be a delicious ingredient in many dishes.

Getjangeo pike eels and and jeonbok abalone are also popular seafood in the summer.
There are many types of eel to be found in Korean waters, and getjangeo pike eels are in-season during the summer. Particularly, those caught in the sea off Goheung, Jeollanam-do Province, are considered to be the best.
The Korea Food Foundation recommends grilled eel as a delicious eel dish, saying that, "It's rich in unsaturated fatty acid, which helps to recover from summer fatigue."
Jeonbok was mentioned as many times as croaker fish in the "Annals of the Joseon Dynasty." Not only was it used in the king's meals, but it was also requested by Chinese monarchs as tributary from Joseon Korea.
Jeonbokjuk rice porridge (전복죽) is made with abalone and is today a popular dish for hospital patients. Because it's easily digested, the porridge is also recommended for children and the elderly to help boost their energy.
ysk1111@korea.kr