Korean pop music and soap operas have been popular across the Arab world for a long time now, and the number of fans keeps getting bigger each year. Those fans dream about meeting their favorite pop idol or attending one of the concerts, or at least getting noticed by their favorite artist. Arab media didn't notice the huge number of fans until the pop group Infinte played in Dubai. Now, we see reports about and interviews with Korean singers and actors.
Ashwaq Alatoli, a reporter and producer for the channel Alarabya since 2013, does a lot of reports and interviews related to K-pop and Korean TV in general. She has interviewed a lot of artists, like the group Infinite, Teen Top, Super Junior's LeeTeuk and KyuHyun, and Super Junior-M's Henry Lau, also Girls' Generation's Taeyeon. She covered MBLAQ's concert in Dubai. She even met the cast of Running Man and the emcee Yu Jae Seok. She has also made reports about Korean fingernail art, music video productions and soap opera sets, and how all that affects tourism.
https://www.youtube.com/playlist?list=PLOFBlNCrlrW4rtdm7_PB_TgUPteQBHN-e
I asked her some questions and she was more than happy to answer.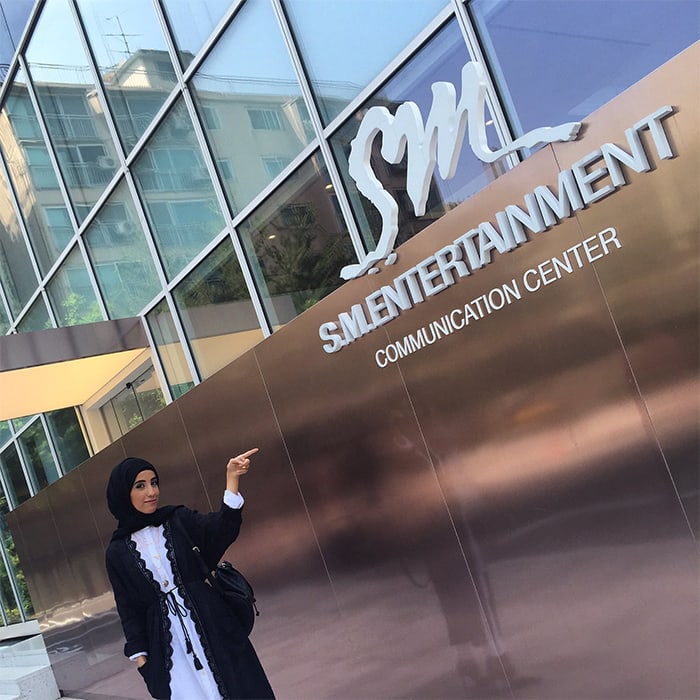 – Are you a fan of Korean pop, media and TV shows? Since when?
Actually, since high school. My first Korean TV show was "Full House" and then I moved on to pop music, the language and the country in general. I was a fan of Japanese animation since childhood, and my first graphic novel was the Japanese comic strip "Boys Over Flowers" in 2005. Then I got into Korean animation and then into Korean soap operas and pop music. By the time I realized it, I was obsessed with Korean pop culture and media more than Japanese pop culture and media.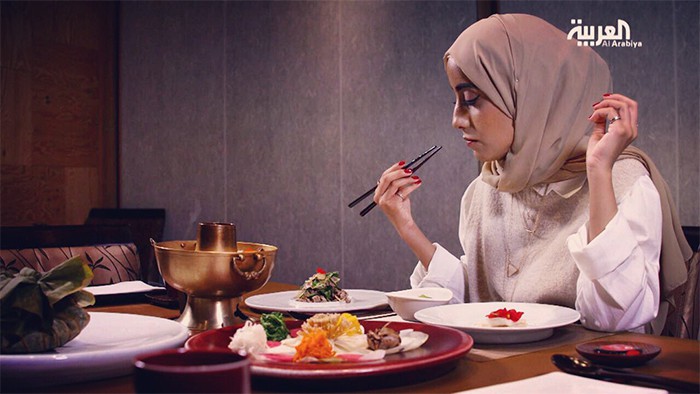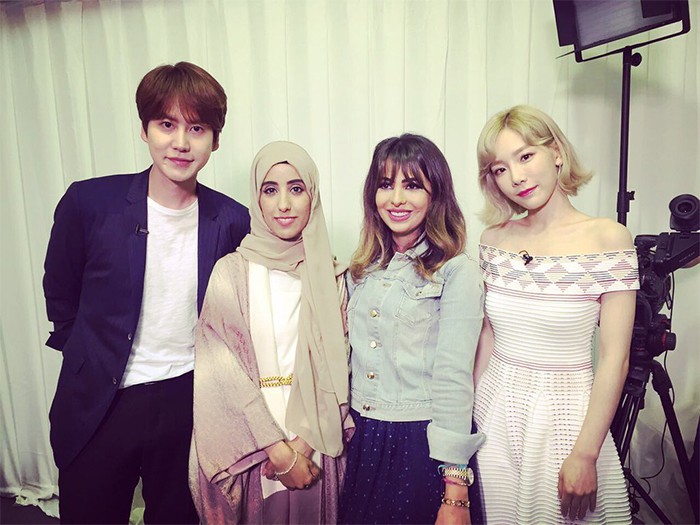 – How did your reports on Korean stars begin?
It all started when the pop group Infinite performed in Dubai 2012.
https://www.youtube.com/watch?v=A7knBz9_FT8
I did my first interview with the group and it was a huge success, which made me cover other related events in the UAE, like the K-con fair in Abu Dhabi in 2016. I did an interview with Super Junior's Kyuhyun and Girls' Generation's Taeyeon, which just blew away the fans. The Twitter hashtag associated with those interviews reached out to the world and drew the attention of more channels, which then noticed the huge presence of a large audience for this kind of Korean pop art. So the channel decided to make special reports about Korean pop and media. Alarabya has always been proactive and forward-looking, tuning in to public interest.
– Do you think your interviews were successful?
Thank God, yes. They were very successful and got an even bigger reaction than we expected. Personally, I try to communicate with the fans and listen to their suggestions.
– Which interview was your favorite?
All my reports and interviews were a wonderful experience for me. However, my latest interview, with Super Junior's leader LeeTeuk, was my favorite. Despite the fact that he's my favorite member of the group, his presence and professionalism made it very special.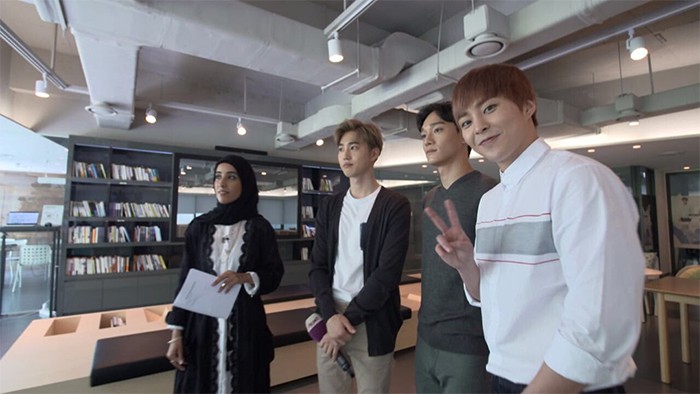 The interview with the group EXO was hilarious during the preparation. Monsta X was also great, with that group's spontaneity before, during and after the interview. We talked about a lot of topics. The interview with Super Junior-M's Henry Lau was great because the language wasn't an obstacle, so it was more comfortable, and surely the interview with emcee Yu Jae Seok was a dream for me. I learned a lot from him.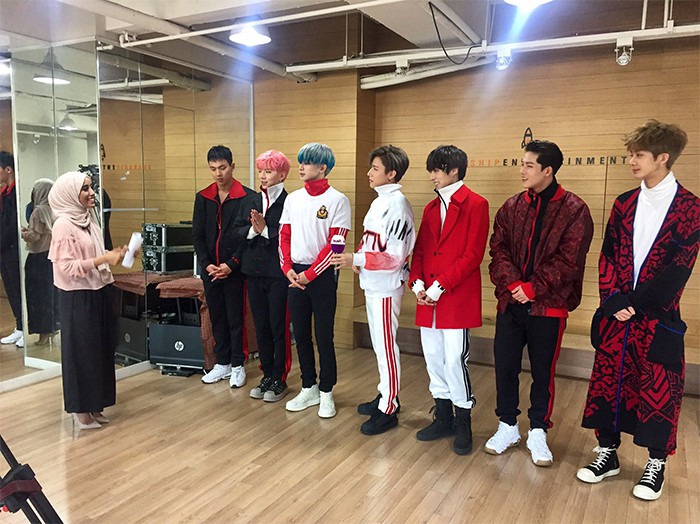 – Do you plan for more interviews and reports?
Sure. There're plans to reach more Korean artists, too, and to do interviews in Arabic with them. Although it's difficult, we're trying hard.
– Have you been to Korea ? What do you think of the place?
Yes, I've been to Korea multiple times. My first time was to study in 2015. I was so impressed and documented everything, and uploaded the videos to YouTube. I love the life there a lot. It's really diverse, especially because most of the country is young, so there's a spirit to life and enjoyment there, everywhere, and people are really neat and respectful.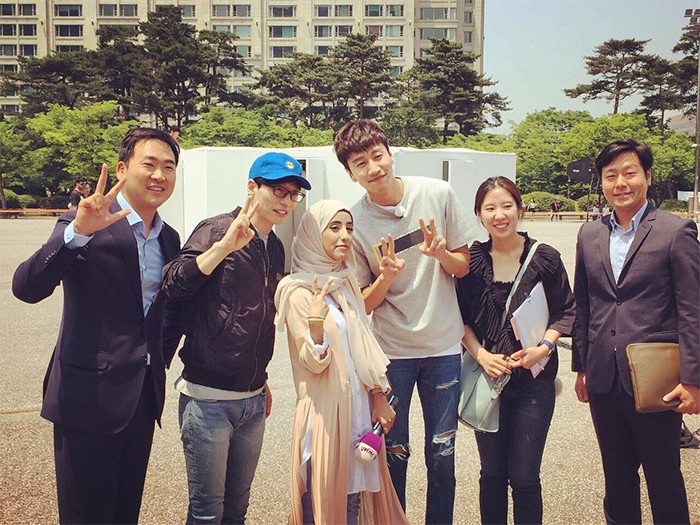 By Menna Allah Muhammad
Korea.net Honorary Reporter
Photos: Ashwaq Alatoli twitter, Alarabya channel
http://koreanetblog.blogspot.kr/2017/03/interview-with-arab-reporter.html