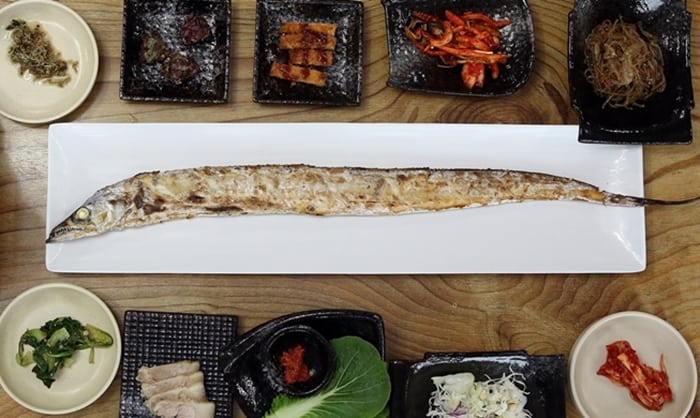 By Kang Gahui and Kim Young Shin 
Godeungeo mackerel (고등어), galchi largehead hairtail (갈치) and myeongtae pollock (명태) are three types of fish that are commonly found on the Korean dinner table, and hairtail are in season from July to October.
Galchi, mostly caught in Korean waters, are divided into two types depending on how it was caught: Jeju eungalchisilver hairtail that are caught with a fishing line, and Mokpo meokgalchi black hairtail that are caught with nets in the waters off Mokpo and Yeosu, both southern port cities. Although Mokpo meokgalchi are popular for their rich and tender flesh, Jeju eungalchi are considered the best in terms of marketability for their size and color.
In particular this year, catch volumes of Jeju engalchi have greatly increased, hitting a 20-year high.
According to the Jeju provincial government, hairtail caught in Jeju in June topped 2,951 tons, which is 4.8 times higher than the catch in the same period in 2016. Experts say that the reason for the increase is the higher temperature of Jeju's seas, which increase the amount of food available for hairtails.
At local restaurants on Jeju Island, a grilled eungalchi goes for around KRW 70,000 or KRW 90,000. A boiled hairtail dish can be around KRW 40,000 or KRW 60,000. In the Jeju Dongmun Traditional Market, galchi hoe raw hairtail is as cheap as KRW 10,000 per plate.
There are also restaurants in Seoul that serve seasonal Jeju eungalchi.
A grilled Jeju hairtail is around KRW 100,000 or KRW 150,000, depending on the size, and a boiled dish for two people can be about KRW 60,000. Although this is a bumper year for Jeju eungalchi, distribution chain, keeping the fish fresh from Jeju to Seoul, keeps the price higher than in Jeju's own local markets.
If you're planning to visit Jeju Island this summer, some delicious Jeju eungalchi dishes could be the perfect choice for a wonderful meal.
kgh89@korea.kr