By Lee Hana
First lady Kim Jung-sook, currently on an official state visit to China alongside President Moon Jae-in, learned how to play the Chinese erhu on Dec. 13, the first day of her trip.
The erhu is an instrument played by passing a bow between two strings. It is similar in appearance to the Korean haegeum, and produces a sorrowful, sentimental sound.
The first lady visited a music store in Beijing's Xinjiekou neighborhood, a shopping street known for its large selection of musical instruments, accompanied by actor couple Chu Ja-hyeon and Yu Shao Guang. There, the trio learned how to handle the erhu and listened to some pieces played on the instrument.
"I was interested to learn more about the erhu, since it's an instrument that's familiar to most Chinese, one that people young and old enjoy listening to," said Kim.
"The erhu, with its two steel strings, can make all kinds of sounds. Listening to its music, I thought about how nice it would be if Korea and China, just like the erhu's two strings, could come together in harmony," she said.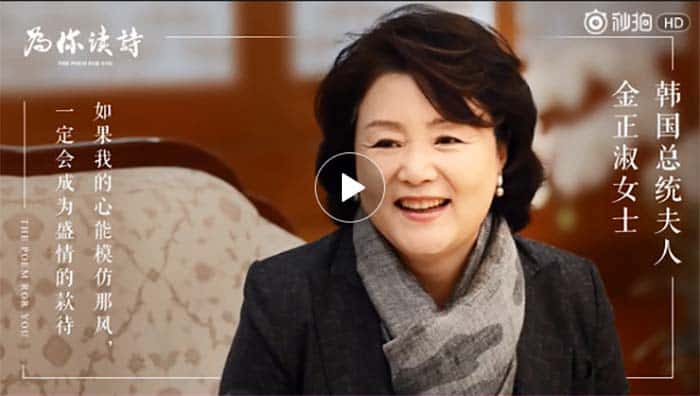 That same day, the Chinese poetry website The Poem for You uploaded a recording of the first lady reciting the poem "The Visitor" by Korean poet Chong Hyonjong on its Weibo profile.
The website will be showcasing works by Korean poets between Dec. 13 and 17, designated as Korean Cultural Week, to coincide with President Moon and the first lady's visit to China.
Explaining the reason behind choosing the poem 'The Visitor,' the first lady said that reading the poem reminds her of the importance of personal connections and relationships. "I chose the poem, hoping that Korea and China would share their true feelings with one another, and stand beside each other in facing a brighter future," she said.
The poem, recited by the first lady in Korean with the words of the poem shown in both Korean and simplified Chinese, can be enjoyed at the link below.
http://www.miaopai.com/show/hwhNfPOGl8tsPD8bC6Tu4yyCIA~ni3X0M41Ecw__.htm
방문객
시인 정현종사람이 온다는 건
실은 어마어마한 일이다.
그는
그의 과거와
현재와
그의 미래와 함께 오기 때문이다.
한 사람의 일생이 오기 때문이다.
부서지기 쉬운
그래서 부서지기도 했을
마음이 오는 것이다 – 그 갈피를
아마 바람은 더듬어볼 수 있을
마음,
내 마음이 그런 바람을 흉내낸다면
필경 환대가 될 것이다.
Visitor
By Chong HyonjongThe coming of a person
Is, in fact, a tremendous feat.
He
Comes with his past,
His present,
and even his future.
His entire life comes with him.
Since it's so easily broken
The heart that comes along
Was likely broken before —
A heart
Whose layers only the wind can trace
If my heart could mimic that wind
It could become a welcome place.
hlee10@korea.kr