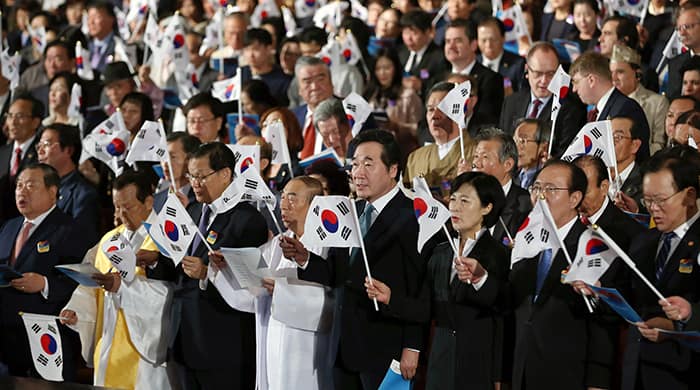 By Xu Aiying and Sohn JiAe
Photos = Jeon Han
Seoul l Oct. 3, 2017
A celebration to mark the 4,349th anniversary of National Foundation Day was held on Oct. 3 at the Sejong Center for the Performing Arts in Seoul, with more than 3,000 guests in attendance. Among the attendees were Prime Minister Lee Nak-yon, Minister of the Interior and Safety Kim Boo Kyum and Minister of Culture, Sports and Tourism Do Jongwhan.
"National Foundation Day, which we celebrate today, is the starting point to usher in a new Korea for the people and a new era of justice," said the prime minister. "The idea of having to treat all human beings as heaven is a belief that we've pursued for five thousand years. This belief has become the basic philosophy of the Moon Jae-in administration: pursue a nation of the people and a people-centered society," he said.
The prime minister continued to say that, "The government will prioritize taking care of each individual and all of those in need. I believe that's how we can make a 'country worthy of being called a country,' one of the government's catchphrases."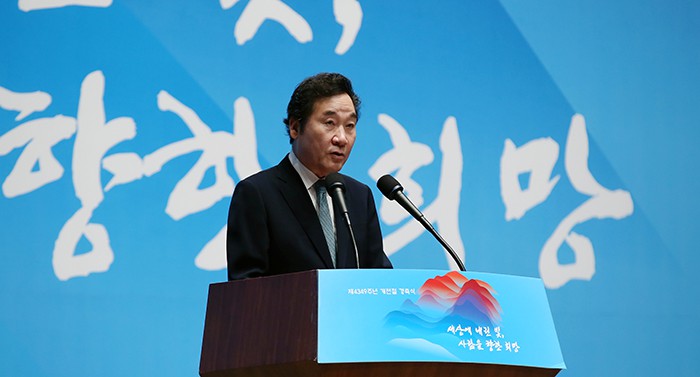 The prime minister said that the goal that the government should pursue is to create a nation that is balanced and harmonious. To have a generation that completes democracy, co-prosperity and unity, so as to establish a country of justice that embraces hongik ingan ehwa saegae (弘益人間 在世理化), the phrase that Dangun Wanggeom himself, the founder of the first Korean kingdom Gojoseon, advocated, which means "universally benefiting human beings and rationalizing human living."
"Taking a closer look, the new world that we have to open is a peaceful, unified Korea," he emphasized. "On National Foundation Day, which both Koreas celebrate today, military tension is still going on across the Korean Peninsula and is shaking up Dangun Wanggeom's ideology. The government will deter North Korea from carrying out further damning provocations and bring peace back to the peninsula by working closely with the international community."
He then concluded his speech by saying, "We'll put more efforts on preparing for next year's PyeongChang 2018 Olympic and Paralympic Winter Games so that it will contribute to a peaceful peninsula. Establishing peace on the peninsula would be the biggest contribution that we could make for humanity."
xuaiy@korea.kr