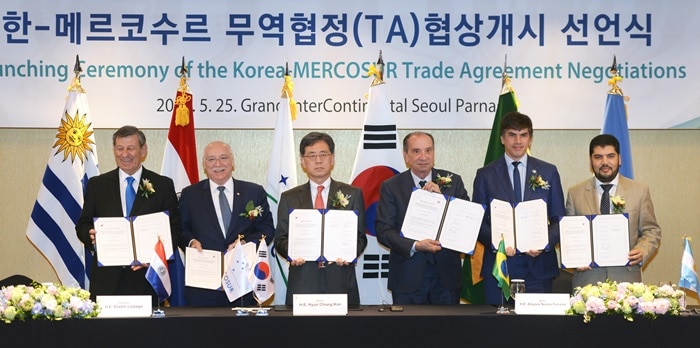 By Kim Eun-young and Kim Young Shin 
Korea is set to sign a trade agreement with the USD 2.7 trillion Central and Southern American markets. Korea and four Mercosur countries officially announced the beginning of trade negotiations in Seoul on May 25.
Minister for Trade Kim Hyun-chong signed a joint declaration on the launching of the Korea-Mercosur trade agreement, along with ministers from the four Mercosur members, at the Grand Intercontinental Seoul Parnas hotel.
Korea and Mercosur have been discussing a trade agreement since 2004. Joint research into the feasibility of a free-trade agreement has been conducted, too. However, the agreement has come to a stop with Mercosur's emphasis on protectionism.
"The Korean government was able to continuously convinced Mercosur after the inaugurations of new Brazilian and Argentine governments, which are amicable toward open trade," said Minister Kim.
According to the Ministry of Trade, Industry and Energy, Korea's real GDP in 2035 could increase 0.36 to 0.43 percent if the trade agreement is signed this year. The trade agreement is expected to boost USD 2.4 billion worth of trade in manufacturing, including the auto and steel industry, and USD 1.26 billion in the agricultural industry.
Mercosur is a South American trade bloc comprising of Argentina, Brazil, Paraguay and Uruguay, established in 1995. It's a big emerging market with 70 percent of the South American population and 75 percent of the region's GDP.
eykim86@korea.kr