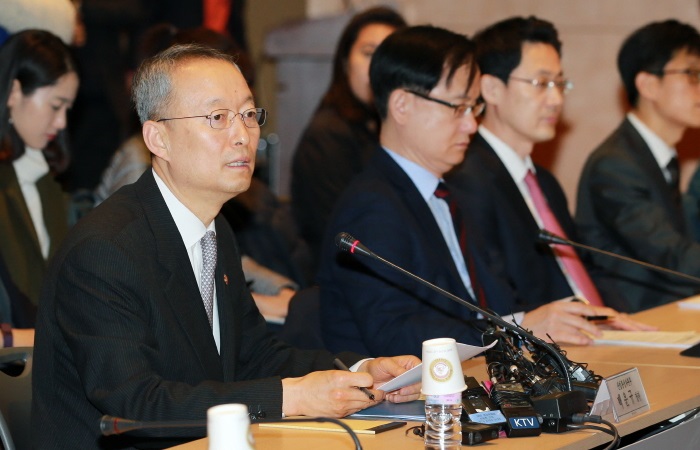 By Kim Eun-young and Sohn JiAe 
In the wake of U.S. President Donald Trump's signing on March 8 of a bill that would levy 25 percent and 10 percent tariffs on all steel and aluminum imports, known as Section 232 of the Trade Expansion Act of 1962, the Korean government immediately announced that it would actively respond to the move.
Minister of Trade, Industry and Energy Paik Ungyu denounced it as "action of unduly placing a limit on steep imports for national security considerations," on March 9 at a meeting in Seoul to deal with the U.S. decision. The minister said that the government would closely consult with the Office of the U.S. Trade Representative (USTR) to discuss ways to get an exemption or an exclusion for reduced tariffs.
On March 7, prior to the signing, Trade Minister Kim Hyun-chong expressed his administration's regrets over the U.S.' impending tariffs in a meeting with USTR representative Robert Lighthizer in Washington, and hoped that both sides would negotiate closely with each other to deal with the issue.
Local steelmakers, too, will work with their U.S. clients and investors to attain an exclusion for certain products for which the U.S. lacks sufficient domestic capacity.
As part of the efforts to minimize losses, the Korean trade ministry will also consider filing a complaint with the World Trade Organization (WTO) in cooperation with other affected countries. It will make use of multi-lateral channels, like the WTO Ministerial Conferences and G20 Trade Ministers' Meetings, to urge the international community to refrain from taking any action that would hinder free trade.
Meanwhile, the European Union (EU), China and Japan have all weighed in on the criticism against the U.S.' unilateral action.
The EU has warned that it would retaliate with tariffs on U.S. imports, including orange juice and bourbon, while considering taking this matter to the WTO.
The Chinese Ministry of Commerce, too, strongly opposed the U.S. move, and urged Washington to respect the authority of the multilateral trading system.
The Japanese Ministry of Economy, Trade and Industry also announced that it would discuss ways with the EU to jointly respond to the matter.
eykim86@korea.kr