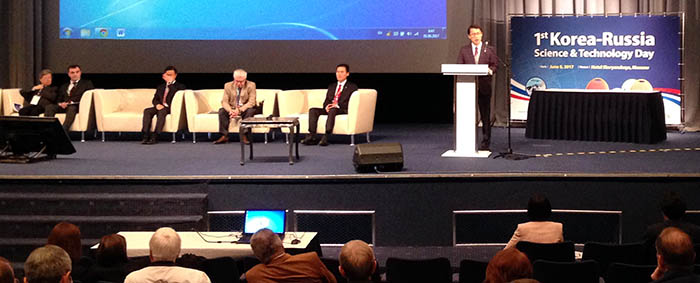 By Kang Gahui and Kim Young Shin
The Ministry of Science, ICT and Future Planning (MSIP) celebrated the first Korea-Russia Science and Technology Day, setting out news ways for the two countries to cooperate on science and technology, in Moscow on June 5.
Specialists from aeronautics, astronomy, nuclear energy, brain sciences and AI attended the ceremony, and participated in forums, lectures and consultations aimed at increasing Korean exports. They agreed on the need for active exchanges of information and human resources among educational and research institutions in the two countries, in order to better trigger collaboration on many fields, such as AI and cognitive sciences.
In particular, Korean and Russian aerospace scientists discussed ways to jointly develop launch vehicles and rocket engines.
"It's a chance for us to learn from and to cooperate with Russia, a leading nation in terms of rocket engines, to improve the engines in Korean launch vehicles, to reduce production costs of launch vehicles, and to learn how to reuse used engines," said Professor Yoon Young Bin from Seoul National University.
"The two countries can also collaborate on liquid rocket engines and supersonic engines," said Professor Alexander Kozlov from the Moscow Aviation Institute.
"Korea has been cooperating with Russia, a leading country in terms of basic sciences, on aerospace and nuclear energy," said Director Choi Won-ho of the International Cooperation Bureau, part of the MSIP.
"Taking this first Korea-Russia Science and Technology Day as an opportunity, I hope our two countries will expand cooperation on establishing a network to develop innovative technologies that will be ready for the fourth industrial revolution."
kgh89@korea.kr