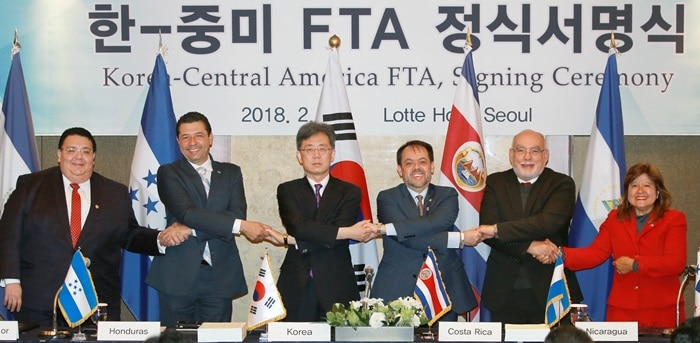 By Kim Eun-young and Lee Hana
Korea has signed a free trade agreement (FTA) with five Central American countries: Costa Rica, El Salvador, Honduras, Nicaragua and Panama. Korea is now the first East Asian country to sign a joint FTA with these five economies.
Minister for Trade Kim Hyun-chong met with his Central American counterparts at a signing ceremony at the Lotte Hotel in Seoul on Feb. 21. The countries signed the deal two years and eight months since negotiations began, back in June 2015.
The FTA outlines agreements on commodities, investments and intellectual property. Following the agreement, Korea and the five Central American countries will eliminate tariffs on 95 percent of goods traded between them, in some cases effective immediately and others in phases.
With the new agreement, Korea will now be able to import Central American coffee and mangoes at lower costs. Central Americans will have cheaper access to Korean automobiles and steel.
The Korea Institute for International Economic Policy (KIEP) predicts that the Korea-Central America FTA will help to increase Korean GDP by 0.02 percent, improve civilian welfare by USD 690 million, and create over 2,500 jobs over the next 10 years.
The Korean government has begun the formal legal process to put the FTA into effect in the first half of 2018.
eykim86@korea.kr