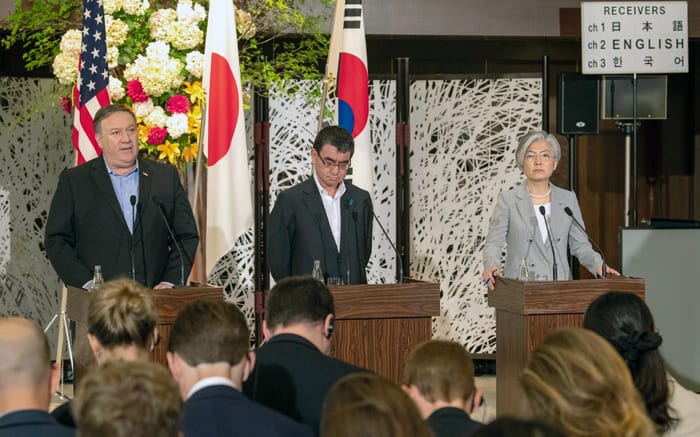 By Lee Hana 
Top diplomats from Korea, the U.S. and Japan held a meeting in Tokyo on July 8 and reaffirmed their trilateral cooperation on the common goal of North Korea's complete, verifiable, and irreversible dismantlement (CVID) of all its nuclear weapons.
Foreign Minister Kang Kyung-wha, U.S. Secretary of State Mike Pompeo and Japanese Foreign Minister Taro Kono announced their commitment in a joint press conference following the day's meeting.
"Complete denuclearization means the complete dismantlement of the weapons, the materials, the facilities and the plans. This is a very clearly-set goal for North Korea. We expect them to deliver on this commitment to complete denuclearization, and the Security Council sanctions will remain in place and be faithfully implemented until we are assured of complete denuclearization by North Korea," said Minister Kang.
"We have made it clear that decisions to suspend certain parts of the ROK-U.S. joint military exercises have been taken jointly with the aim of encouraging North Korea to actively and expeditiously engage in the denuclearization process. Our two countries will continue to maintain watertight coordination in any and all issues related to the ROK-U.S. alliance," she said.
Secretary Pompeo, who visited North Korea on July 6 to engage in denuclearization talks as a follow-up to last month's Singapore summit, said, "Sanctions will remain in place until final, fully verified denuclearization, as agreed to by Chairman Kim Jong Un, occurs."
"While we are encouraged by the progress of these talks, progress alone does not justify the relaxation of the existing sanctions regime," he stressed.
Minister Kono said that the three countries remained unchanged in the goal of denuclearizing North Korea. "As far as Japan is concerned, we will work in tandem with the international community so that the sanctions based on the Security Council's resolution can be implemented solidly," he said.
hlee10@korea.kr