By Park Hye Ri and Lee Hana
Photos = Ministry of Strategy and Finance
Deputy Prime Minister and Minister of Strategy & Finance Kim Dong Yeon met with Uzbekistani President Shavkat Mirziyoyev in Tashkent on Feb. 13 to discuss economic cooperation.
The deputy prime minister, who had visited the country for a meeting with his Uzbekistani counterpart, explained to President Mirziyoyev some discussion topics of his previous meeting. These included addressing taxation issues faced by Korean companies based in Uzbekistan, as well as expanding cooperation in areas such as infrastructure, health and welfare, and online government services.
After the briefing, President Mirziyoyev promised to lead efforts to ensure that Korean companies in Uzbekistan could grow their businesses in a better environment.
The deputy prime minister let President Mirziyoyev know that President Moon Jae-in was willing to pay a visit to Uzbekistan this year to discuss expanding cooperation.
President Mirziyoyev said that his country looks forward to President Moon's visit.
"Moon's people-centered economy, which places the needs of the citizens above all else, closely resembles the direction of the Uzbekistani economy," said Mirziyoyev, expressing his wish to strengthen cooperation with Korea in terms of politics.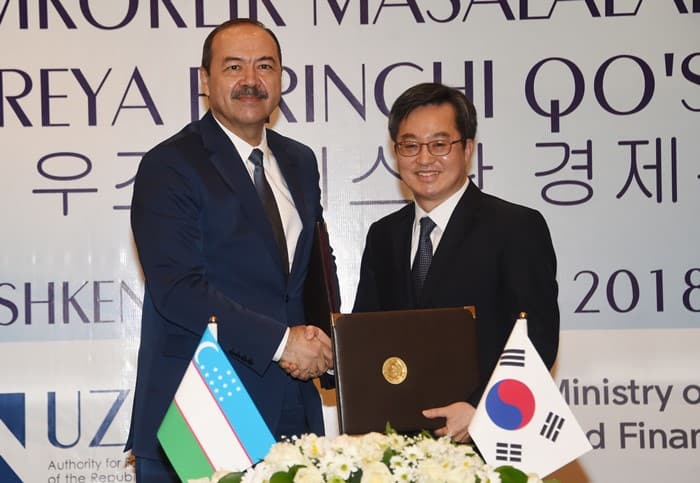 The aforementioned meeting between the Korean and Uzbekistani finance ministers took place on Feb. 12.
The Korean delegation, headed by Deputy Prime Minister Kim, included 28 officials from nine ministries, including the Ministry of Trade, Industry and Energy and the Ministry of Health and Welfare.
Headed by Uzbekistani Prime Minister Abdulla Aripov, the Uzbekistani delegation included ministers from nine ministries dealing with trade and finance.
During the meeting, the two countries signed a memorandum of understanding (MOU) outlining cooperation on the construction of a state-run medical complex in Uzbekistan, and a project to build a new airport terminal in Tashkent.
hrhr@korea.kr