By Min Yea-Ji and Kim Young Shin
Photos = National Museum of Korea
"Don't let the simplicity of the moon jars fool you."
So said Singapore's Asian Civilisations Museum (ACM) as it introduced the moon jars, a style of Joseon white porcelain vase that is the main type of pottery on display in the "Joseon Korea: Court Treasures and City Life" exhibit currently underway in the Southeast Asian city.
The museum spoke about its newest exhibition on its social media platforms, and the exhibit opened on April 22.
The ACM uploaded a total of 20 postings about the exhibition to its Facebook and Instagram profiles over the past 10 days. It even changed the cover photo at its Facebook profile to the exhibition poster.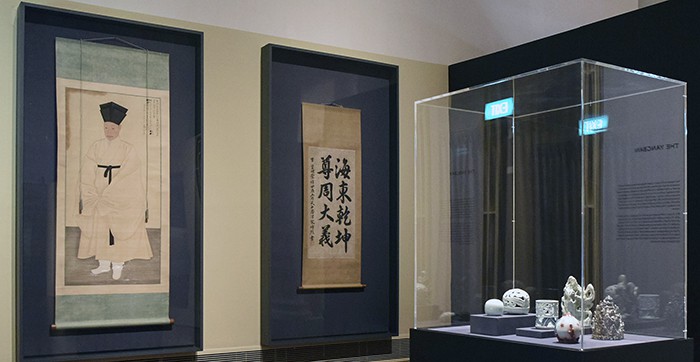 "I hope you are as charmed by 'Joseon Korea: Court Treasures and City Life' as we are," said Director Kennie Ting of the ACM on April 21. "Joseon society and the life of the people, ranging from the royal family to the peasants, are all shown here at the ACM."
As Ting said, a total of 145 items from Joseon are on display in the special exhibition.
They include: the painting of the royal march of King Jeongjo (r. 1776-1800) to Hwaseong Fortress in 1795; the collaborative work between court painters Kim Hong-do and Lee Myeong-gi, the "Portrait of Seo Jik-su," that reveals the aristocratic way of life; a color-striped coat that belonged to a commoner's child; and, even a range of norigaependants. All of these together bring to life the many different aspects of Joseon life.
In 2013, the "Cross-cultural Art from Singapore and the Straits: The Peranakan World" exhibit was held at the National Museum of Korea to introduce some of Singapore's history to people in Korea. It paved the way for this special exhibition currently on display at the ACM.
The special exhibition "Joseon Korea: Court Treasures and City Life" will continue until July 23.
jesimin@korea.kr