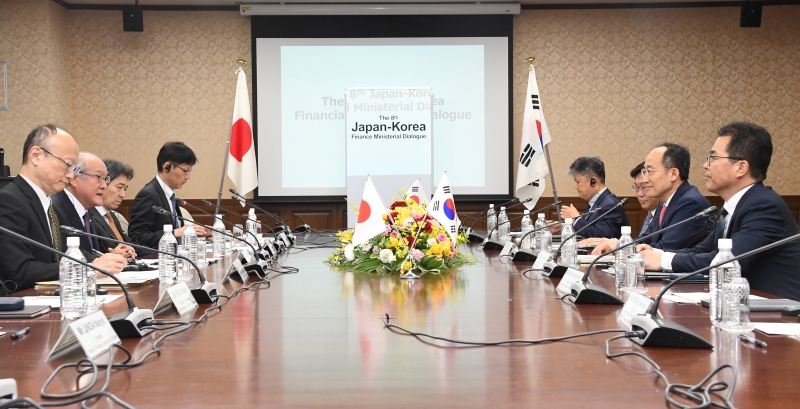 By Park Hye Ri
Photos = Ministry of Economy and Finance

A currency swap with Japan worth USD 10 billion has been resumed after an eight-year hiatus.

The Ministry of Economy and Finance said Deputy Prime Minister and Minister of Economy and Finance Choo Kyung-ho and Japanese Minister of Finance Shunichi Suzuki on June 29 agreed on the move at the eighth bilateral meeting of finance ministers at Japan's Ministry of Finance in Tokyo.

A currency swap is a deal in which one country pledges to entrust its currency with a partner state and borrow the partner state's currency or USD in a foreign exchange crisis or other emergency. The countries discuss whether to extend it when the expiration date approaches.
In 2015, Korea and Japan terminated their swap amid deteriorating bilateral ties, thus its resumption comes after an eight-year hiatus.

The latest deal is entirely based on the greenback. Not a method of exchanging JPY, the swap allows withdrawal of USD equal to a JPY amount for a KRW deposit in Japan.

Seoul and Tokyo concluded their inaugural swap in 2001 worth USD 2 billion, and the amount in 2011 jumped to USD 70 billion — USD 40 billion in the greenback and USD 30 billion worth of JPY.

"The resumption of the currency swap after eight years holds far bigger meaning than its value," the ministry said. "This result symbolically shows that ties with Japan, which have quickly recovered since the bilateral summit in March, have also been restored in financial cooperation."

Both ministers also agreed to reinforce communication and cooperation between officials of both ministries and hold their ninth meeting next year in Korea.