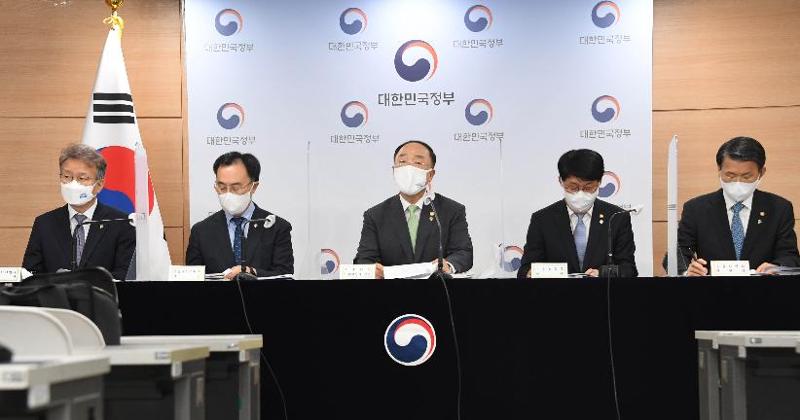 By Oh Hyun Woo and Lee Jihae
The government has raised its economic growth forecast for this year to 4.2%.
This is a big jump of a full percentage point from the 3.2% prediction it made at the end of last year.
If the forecast is met, it would mark the economy's highest growth since 6.1% in 2010.
Deputy Prime Minister and Minister of Economy and Finance Hong Nam-ki on June 28 announced the revised figure at a joint briefing he chaired on economic policy for the second half of the year with relevant government agencies at Government Complex-Seoul.
He called the prevalence of COVID-19 and speed of vaccinations the most important variables, but said the economy will continue its recovery trend propelled by exports and investment based on the overall V-shaped recovery and rebound of the global economy.
On economic policy in the second half, Minister Hong proposed a structural shift to become a leading economy through complete economic recovery based on recovery of the people's livelihood and inclusivity and acceleration of the transition toward a digital and low-carbon economy.
Based on the government's annual standard, he said, the growth rate this year will hit an 11-year high of 4.2% and the number of new hires will reach 250,000, a reversal of 220,000 job losses last year.
Exports are forecast to exceed USD 600 billion, he added, pledging that the government will do all it can so that the figure sets a record high.
Consumer inflation will reach an estimated 1.8% in the second half, below the price stabilization goal of 2%, as supply conditions improve and public policy focuses on price stability.
The government also expects economic recovery to continue next year with a growth forecast of 3%.