By Min Yea-Ji and Lee Jihae 
Photos = Choi Tae-soon 
Incheon | July 22, 2019
A woman in her 30s removes makeup with an ultra-fine particle cleansing device after arriving home from work. She says she used to be afraid that her face would have remnants of her makeup even after washing, but the device has dispelled her fears. After washing her face, she puts on an LED mask for 9-20 minutes, and says she feels like she is taking good care of her skin.
High-tech beauty devices in Korea are emerging as a new force in K-beauty, with small and medium businesses as well as conglomerates vying to get ahead in the growingly competitive sector armed with world-class knowhow.
Among such items, a facial cleansing device removes any ultra-fine particles remaining after face washing, a "galvanic" gizmo facilitates the skin's absorption of cosmetics and a lifting device boosts skin elasticity. The most popular among these is an LED mask that provides UV-free color light therapy.
Kim Il Soo is the CEO of Cellreturn, a startup that developed Korea's first LED mask. In an interview with Korea.net, he explained how foreign markets are responding to such K-beauty devices and his opinion of this sector's prospects. In early July, Cellreturn was the lone Korean LED mask company to be invited to exhibit its products in Stockholm. The Swedish capital held a display of Korean aesthetics-related products to commemorate the 60th anniversary of bilateral ties between Korea and Sweden.
Response to changing K-beauty trends
K-beauty has been characterized by high-quality cosmetics but high-tech devices are now leading the way for the sector.
According to LG Economic Research Institute, the global market for aesthetics products in 2014 was an estimated USD 19.3 billion, with expected annual growth of an average 18.7% and a market value forecast to reach USD 54.1 billion by 2020. Physical stimulation is necessary to keep the skin in a good state, which is achieved by providing the proper nutrients and disposing of waste produced by skin.
"Our customers can just put on an LED mask on their faces at home instead of visiting a skin care or massage salon. The mask helps skin cells regenerate. Not only customers in Korea but also abroad are increasingly showing interest in our products," Kim said.
"(The masks) have practical functions, save time and reflect the trend of taking care of one's looks."
LED masks emit near-infrared rays that penetrate the skin and are absorbed by mitochondria in cells. This process increases the supply of fibroblasts that boost fiber in skin and produce collagen and elastic fiber, which facilitate the regeneration of skin cells.
Based on this biological process, Kim developed Korea's first LED mask in 2014 and has since increased the near-infrared rays a single mask can emit, as well as improving the masks' exterior designs.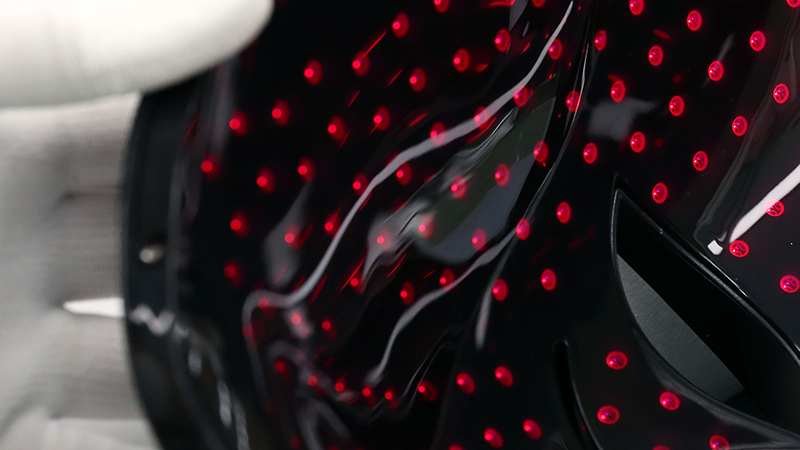 Growing foreign demand 
While LED masks see relatively wide use in Korea, they are rare abroad and thus the global market for the product is in its early formative stage. When foreign clients first saw the masks, Kim said, they all expressed responses like "What is this? This is really cool."
And instead of Cellreturn initiating its expansion into overseas markets, a company in Dubai, United Arab Emirates, asked the Korean startup to launch operations in the city. The wife of the company's manager apparently became entranced by the mask after using it. Thus Cellreturn has entered the markets of several countries and is in the process of making a foray in the Middle East.
As a small company, Kim said, Cellreturn is fully utilizing its resources for research and development of LED masks, developing, producing and providing customer service nationwide to enhance product quality and reduce the defective rate. Such efforts attest to the company's belief that "innovation equals survival."
"We're going to utilize innovative technology such as artificial intelligence and continue to improve our products," he added.