Korean kitchenware has recently been winning popularity in markets around the world. This is thanks to companies' efforts to customize their products to the local food culture of each target nation. The range of cookware includes frying pans, pressure cookers and even stone pressure cookers.
PN Poong Nyun, a Korean kitchenware manufacturer, entered the Indian market in cooperation with CJ Home Shopping in 2013. The company launched a set of frying pans targeting Indians who enjoy making curries and naan, two Indian staples. Poong Nyun's frying pans are made from extremely pure aluminum, and have high thermal conductivity and heat preservation. They're covered with a diamond-coated layer on the cooking surface, which reduces scratches and damage from sharp objects. They also have a non-scratch layer that prevents food from burning and makes it easier to clean. Within the first two months of its launch, Poong Nyun sold more than 10,000 sets of frying pans in India.
Chinese customers have their eyes on pressure cookers and stone pressure cookers. Unlike electric pressure cookers, these pressure cookers use gas or some other source of heat. Rice cooked in a pressure cooker is as tasty as that made in an electric rice cooker. Since the Korean dish dolsot bibimbap, or mixed rice with vegetables and meat in a stone cooker, is one of the most favorite menu items for many Chinese diners, Poong Nyun developed a new form of pressure cooker — its stone pressure cooker — by combining the advantages of both types of pot. This product is made from a special aluminium and has an anodic oxide film. This increases the heat transfer and prevents it from cracking over the long term. It's also safe to use, as it has a double-structured safety cap on the lid.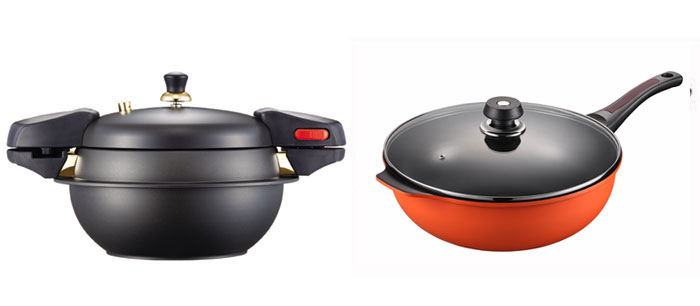 Woks are another hit item for Poong Nyun. Its wok designs take into consideration Chinese tastes in food, as many consumers in that market enjoy stir-fried meals. Poong Nyun's woks are 28 centimeters in diameter, relatively large compared to ordinary pans that are around 20 or 24 centimeters in diameter. Thanks to their popularity, in April last year Poong Nyun was selected as one of the top brands at two Chinese online shopping malls, Alibaba and Taobao.
In Mexico last year, Poong Nyun's pressure cookers, pots and frying pans were completely sold out when they started selling through a local home shopping channel. In all, the company recorded KRW 6 billion worth of sales overseas last year.
By Yoon Sojung
Korea.net Staff Writer
[email protected]