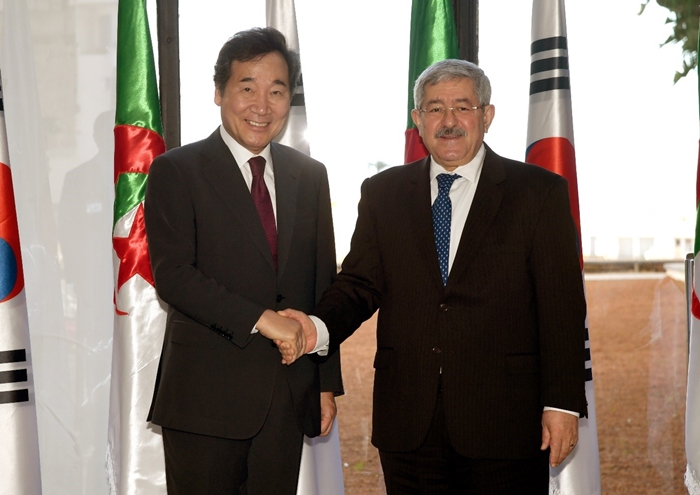 By Song Baleun and Yoon Sojung
Prime Minister Lee Nak-yon on Dec. 17 held talks with Algerian Prime Minister Ahmed Ouyahia in Algiers on bilateral cooperation.
On an official tour of three countries in Northwest Africa, Lee and Ouyahia agreed to form a ministerial-level joint committee next year to discuss boosting the strategic partnership between the two countries.
As the first Korean prime minister to visit Algeria, Lee focused on business diplomacy. He asked for Algeria's support to help Korean companies participate in the country's infrastructure projects, such as an oil refinery in Hassi Messaoud with an estimated cost of USD 3 billion.
After the meeting, both prime ministers saw officials from their two governments sign five memoranda of understanding (MOU) to lay the foundation for economic cooperation, including one on trade promotion cooperation between the Korea Trade-Investment Promotion Agency and the Algerian National Agency of Trade Development.
Earlier that day, Lee attended the Korea-Algeria Business Forum to urge bilateral business cooperation. At the event, Hyundai Motor Company and Global Group of Algeria signed a formal agreement to jointly build an automotive plant in Batna.