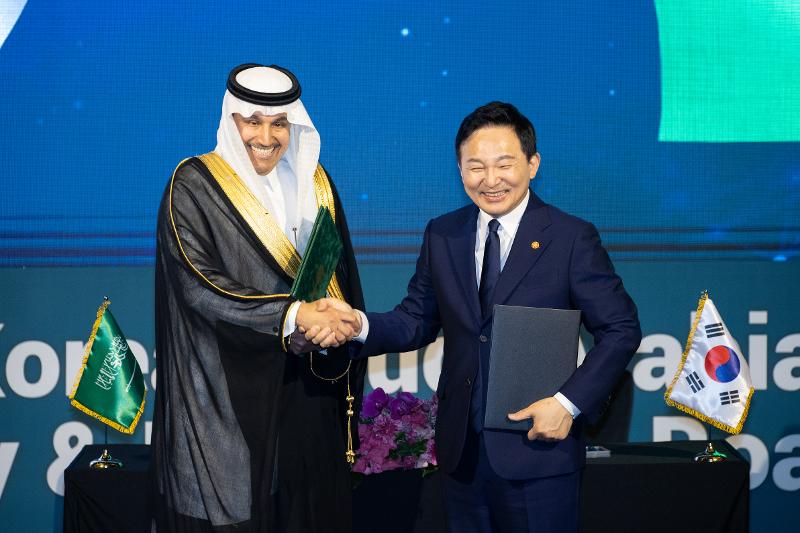 By Yoo Yeon Gyeong

A delegation from Saudi Arabia has visited Korea to find contractors for a combined KRW 12 trillion worth of transportation and infrastructure megaprojects, including the planned smart city Neom.

The Ministry of Land, Infrastructure and Transport on the afternoon of May 9 hosted the second Korea-Saudi Arabia Mobility and Innovation Roadshow at Four Seasons Hotel Seoul in the capital's Jongno-gu District. The Arab country hosted the first edition of this "shuttle roadshow" in November last year, where Korean companies showcased their competitiveness.

Saudi Minister of Transport Saleh bin Nasser Al Jasser on the previous day arrived in Korea as the leader of a 38-member delegation of officials from his ministry, sovereign wealth funds, Saudi Ports Authority, General Authority of Civil Aviation and Saudi Arabia Railways.

At the roadshow, the delegation explained key infrastructure projects by sector including airports, marine transportation, expressways, railroads, logistics complexes and special economic zones. The value of projects under Saudi Vision 2030 exceeds KRW 12 trillion.
"The projects introduced at today's roadshow are just a fraction," Minister Al Jasser said. "There are more investment opportunities and Korean companies can get many of them if they try based on their extensive business experience in Saudi Arabia."
Eight leading Korean companies including Samsung, Hyundai and Hanwha went all out to hawk their innovative technologies and capacities to the delegation ranging from the building of ports, airports and roads to next-generation mobility and smart city construction.
Attending the event were Hyundai Motor (smart city), Socar (automotive management systems), Hanwha Systems (urban air mobility), Hyundai Elevator (vertiport infrastructure), Naver Cloud (digital twin and self-driving vehicles), Hyundai Engineering and Construction (future mobility), and Samsung C&T (smart city solutions).

"(Saudi Arabia) has so many more opportunities and the smart city and mobility solutions introduced by Korean companies will go well with (our) goals and make cooperation smooth," Minister Al Jasser said.
The transportation ministers of both countries also signed a memorandum of understanding on cooperation in future mobility, innovation and roads. They will pinpoint the range of cooperation in future mobility like self-driving vehicles and those powered by electricity or hydrogen that require inter-country policy cooperation and boost related collaboration in policy and technology.
Around 200 people attended the roadshow including Minister of Land, Infrastructure and Transport Won Hee-ryong, his Saudi counterpart, and representatives from public organizations and companies from both countries.
Saudi Arabia is a core partner of Korea that has landed the world's most Korean construction orders in value. Led by Crown Prince and Prime Minister Mohammed bin Salman, the country is carrying out megaprojects such as Neom.
"Korea and Saudi Arabia are expanding cooperation from the traditional sectors of energy, construction and infrastructure to new industries like smart city, IT and mobility," Minister Won said. "From corporations to startups, we will actively support our companies possessing innovative technologies so that they can win orders from Saudi megaprojects as 'One Team Korea.'"
The delegation visited transportation and logistics venues such as Incheon International Airport and Railway Traffic Control Center and went to Busan New Port on May 10.
dusrud21@korea.kr