With the growing popularity of Korean soap operas and films starred in by beautiful actors and actresses, Korea-made cosmetics, too, have been gaining attention over recent years. Behind the popularity of such cosmetics is probably a belief that high-quality facial treatments can help people look more charming or attractive.
Among the high-performing brands both at home and abroad is Amore Pacific. Made from traditional herbal elements, Amore Pacific's Sulwhasoo lineup has been created with a healthy image in mind. Regarded as a cosmetic for, firstly, Asian consumers, the products are now popular in many parts of the world, including China, Taiwan and the U.S.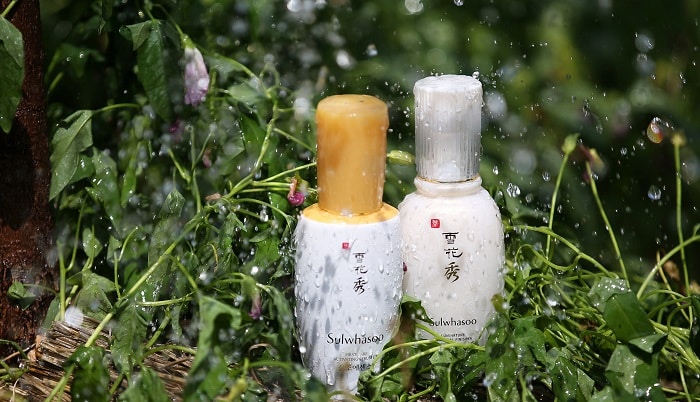 Amore Pacific has more than 30 brands that encompass daily necessities through to both low-cost and luxurious cosmetic items. Among its many brands is Sulwhasoo, the company's global champion. The distinctive features of Sulwhasoo are that the products are based on natural materials — ginseng, peonies, lilies and other herbs — all grown from the earth and all known for elements that help boost skin hydration and elasticity.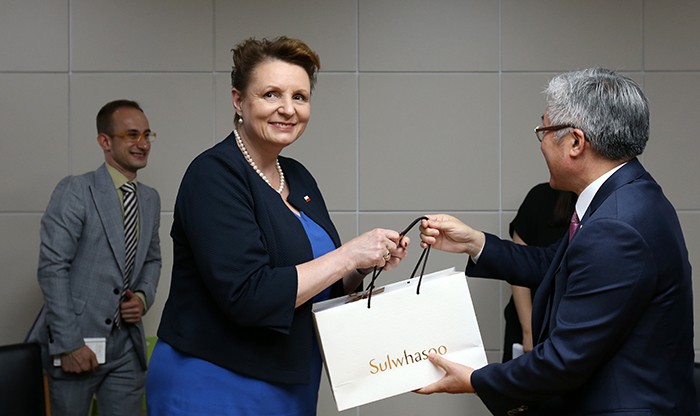 Created in 1966, the name Sulwhasoo refers to the beauty of apricot flowers that bloom in the snow. Known as a healthy and classy brand of cosmetics, it has often been selected as gifts for national leaders and their spouses who paid visits to Korea or during global forums. In 2004, Sulwhasoo opened its first overseas branded store in Central in Hong Kong. Further expanding outward, it now has many more branches in around ten nations, including China, the U.S. and Singapore.
The bestseller within the Sulwhasoo lineup is Yunjo Essence. It's encouraged to apply Yunjo Essence during the first stages of applying makeup, unlike other types of "essence" which are normally applied after the toning water. Since its launch in 1997, it has never been pushed out of the bestseller's spot. An appropriate combination of five herbs and flowers — peony, lotus, Solomon's seal, lily and foxglove — is known to help soften, moisturize and tone the skin.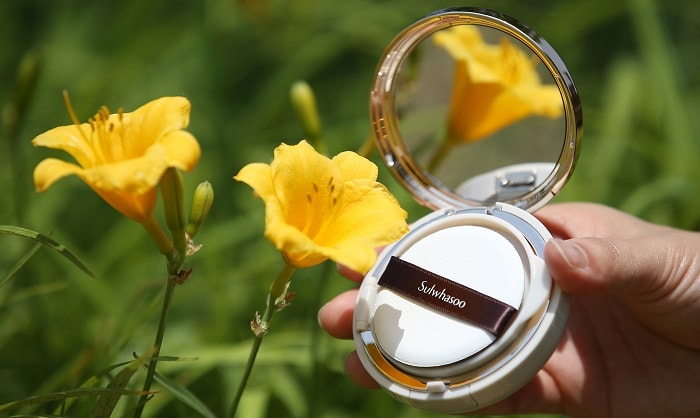 One of the most popular items among non-Korean users is Sulwhasoo's Perfecting Cushion, a multifunctional foundation compact. It helps block sunlight, fights against wrinkles and brightens the skin tone. The foundation can play multiple roles because it has adenosine elements, known for their anti-wrinkle effects, apricot kernel oil, a collagenase inhibitor and various herbs that have skin-nutritional and moisture-boosting effects. The Perfecting Cushions are applied after the sun block and foundation, and also can be used just for a touch-up. They are high in moisture, helping to prevent the skin from getting flaky or cakey.
By Lee Seung-ah
Photos: Jeon Han
Korea.net Staff Writers
[email protected]