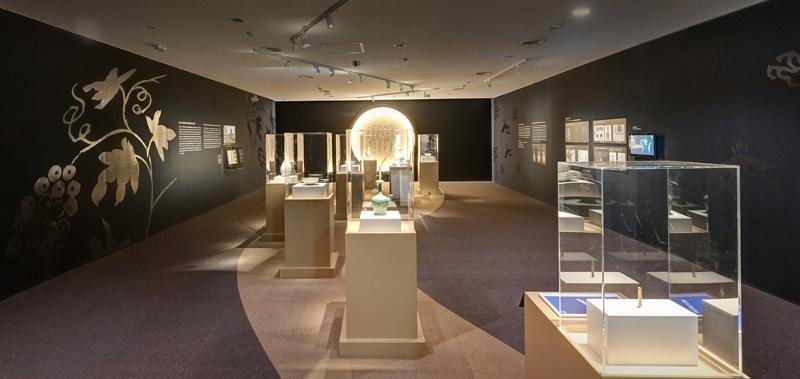 By Jung Joo-ri and Lee Jihae
Photos = Cultural Heritage Administration
Eight craftworks from the Goryeo Dynasty (918-1392) housed at the Royal Museums of Art and History in Belgium are on display in Seoul.
The Cultural Heritage Administration (CHA) on Sept. 7 said the works are being showcased from Sept. 8-17 as part of the exhibition "In Pursuit of the Aesthetic Legacy of the Goryeo Dynasty" at the National Palace Museum of Korea in Seoul.
Marking the 120th anniversary of diplomatic ties between Korea and Belgium, the event features the eight works — six inlaid celadons and two metal works — that were preserved for eight months at the National Research Institute of Cultural Heritage. Set to be returned to Belgium, the eight are being displayed in Korea for the first time.
The works are a gilt-bronze case for acupuncture needles; bronze kundika; celadon bowl with inlaid crane and cloud design believed to be from the 14th century; celadon bowl with inlaid willow and waterfowl design; celadon bottle with inlaid lotus and willow design; celadon gourd-shaped bottle with inlaid willow and waterfowl design; and celadon gourd-shaped ewer with inlaid grapevine and boy design.
Five of the eight works are from the collection of Victor Collin de Plancy (1853-1922), a French diplomatic official dispatched to Korea in 1888.
The images of waterfowl, clouds, a crane, grapevines and a child featured in six of these works were made through an inlaying technique and believed to have all been made in the late Goryeo period.
Used to make porcelain works during that period, the technique involved inscribing and sculpting a design on the porcelain surface and later inserting colored soil in the inscriptions. This produced a contrast between the color in the inscription and the background in the porcelain.
The CHA from Sept. 17 will provide an online service through virtual reality content. An interview clip explaining the discovery and restoration of the eight works is available on the museum's website (www.gogung.go.kr) and the CHA's YouTube channel (https://youtube.com/chluvu).