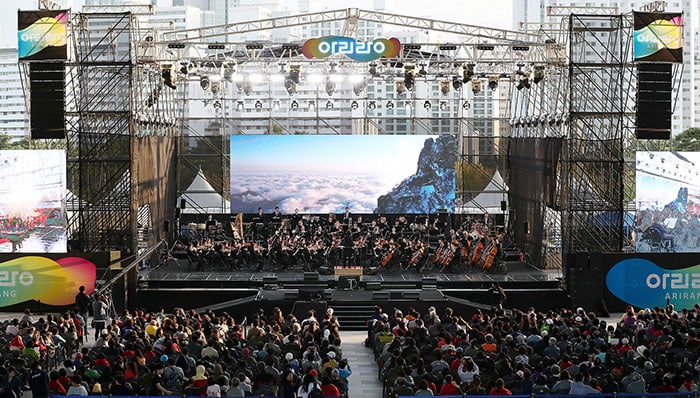 The Korean folk song "Arirang," in genres both old and new, echoed across Seoul's crisp autumn skies this past weekend.
The 2016 Arirang Festival opened at the National Museum of Korea on Oct. 8 and 9, with the theme "My 'Arirang,' Our Song," and featuring a program filled with traditional Korean singing, classical piano pieces, dance and opera.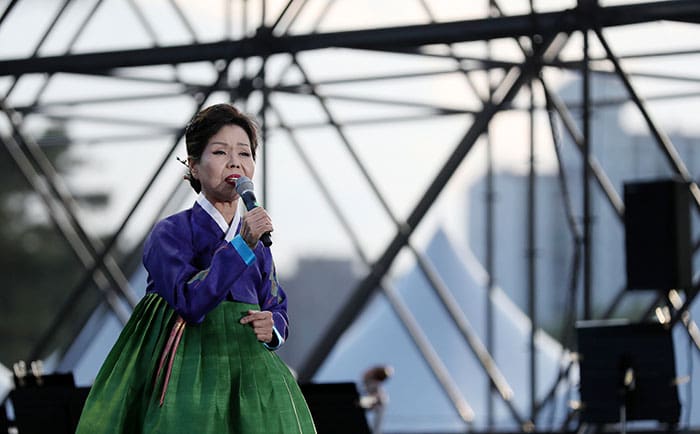 The concert showcased several variations of "Arirang," accompanied by the Gyeonggi Philharmonic Orchestra. Audiences had a chance to hear "Miryang Arirang" (밀양 아리랑) from the Miryang region of Gyeongsangnam-do Province, as well as "Jindo Arirang " (진도 아리랑) and "Sangju Arirang" (상주 아리랑).
There was a special performance of "Bonjo Arirang" (본조 아리랑) by Lee Chun-hee, a master singer of traditional folk songs. Lee Bong-geun, Ryu Geun-hwa and Min Eun Kyung, a younger generation of traditional singers, followed the master's lead with a rendition of "Gangwon-do Arirang" (강원도 아리랑), "Sangju Arirang" (상주 아리랑) and "Jindo Arirang" (진도 아리랑).
Later in the evening, modern dancer Seong Chang Yong staged a dance choreographed to "Arirang," while soprano Jung Hye-ok filled the outdoor amphitheater with her powerful vocals in a performance "Arariyo" (아라리요).
Montant, a multicultural choir, sang "Seven Colors of Arirang" and Rapercussion, a percussion group, performed "Arirang" using both Asian and African instruments.
Finally, audiences were treated to "Arirang Rhapsody" played by pianist Park Jong Hwa, and modern interpretations of "Arirang" by singer Harim and British tenor Paul Potts.
By Lee Hana
Korea.net Staff Writer
Photos: Jeon Han, Korea.net Staff Photographer
[email protected]