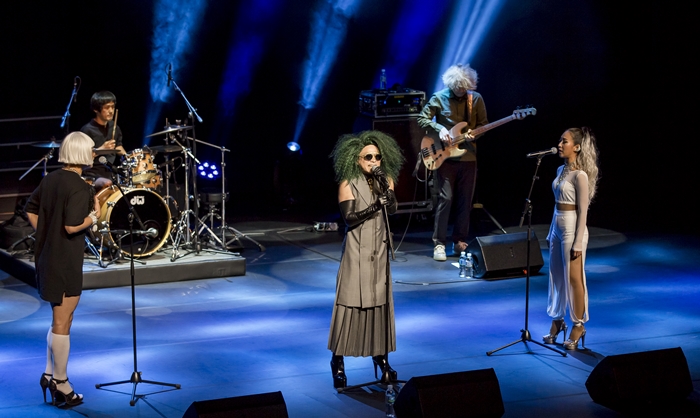 By Kang Gahui and Kim Young Shin 
A group of Korean artists will host a series of "Traveling Korean Arts" concerts and exhibitions in 23 cities in 18 countries this year, including Hungary, the U.K., Egypt, South Africa and Brazil.
The Ministry of Culture, Sports and Tourism and the Korean Foundation for International Cultural Exchange selected 11 artist groups to present their art as part of this year's "Traveling Korean Arts" program, to be held from Aug. 10 to the end of December.
Pangut traditional art concerts will be held in Sao Paulo, Brazil, Santiago, Chile, and Montevideo, Uruguay. The drum troupe Tago's "The Sound of Thunder" will be shown in Frankfurt, Germany, Budapest, Hungary, and Novi Sad, Serbia.
Traditional folk-rock group SsingSsing, which toured North America in 2017, will perform again for global audiences at the opening ceremony of the K-Music Festival in London on Oct. 2.
As for exhibitions, the Museum of Photography Seoul will present "Mega Seoul 4 Decades" that depicts the dynamic changes that Seoul has gone through over time. It will be in Manila, the Philippines, Beijing, China, and Tokyo, Japan. The Savina Museum of Contemporary Art will exhibit "The Source of Inspiration" program in Tokyo. The Sookmyung Women's University Museum, together with the Minority Garments and Decorations Museum at the Beijing Institute of Fashion Technology, will host the "Color of Korea" exhibition in Beijing.
"Since trial operations in 2014, we toured 50 countries to promote Korean arts and heritage," said the culture ministry. "We will organize more diverse programs to promote excellent Korean artists all around the world."
kgh89@korea.kr