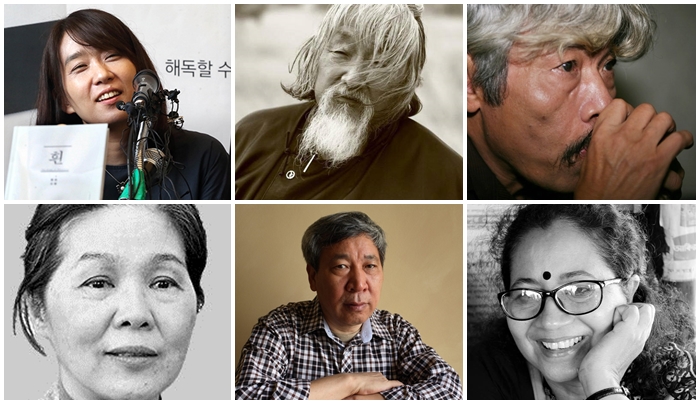 By Lee Kyoung-Mi and Kim Young Shin 
Asian writers are gathering for the 2nd Asian Literature Festival to be held at the Asian Culture Center in Gwangju from Nov. 6 to 9 to deliver the message of peace.
The festival began last year to boost communication and cooperation among Asian countries through literature. The host city, Gwangju, is where the May 18 Gwangju Democratization Movement took place in 1980. Here, Asian writers are gathering to share their experiences regarding democracy and peace.
This year, the festival will bring together 12 Korean writers, including the first Korean Man Booker laureate Han Kang, and 11 others from 10 countries, including Mongolian poet Damdinsuren Uriankhai, the first winner of the Asian Literature Award, and Chinese novelist Yan Lianke, winner of Franz Kafka Prize.
The writers will visit the May 18th National Cemetery on Nov. 6, a day ahead of the festival's opening. On Nov. 7, the participants will attend a forum and talk about how to "let ourselves be peace first." On the following day, there will be a recital of the literary works by the guests.
On Nov. 9, the last day, the festival committee will broadcast the writers discussing "diverse paths to peace" on its Facebook account. The video will also be shared on YouTube. At the closing ceremony, the winner of this year's Asian Literature Award will receive the prize.
"The Asian Literature Festival will serve the Asian writers who are interested in democracy, peace and human rights," said Paik Nak-chung, the chairperson of the Asian Literature Festival.
"Particularly, 2018 is a special year when the journey towards denuclearization and lasting peace on the Korean Peninsula began as the leaders of the two Koreas met in Panmunjeom and in Pyeongyang," said Paik. "The festival urges Asian writers to carry on the spirit of peace on the Korean Peninsula to sublimate Asia's wounds through literature."
km137426@korea.kr