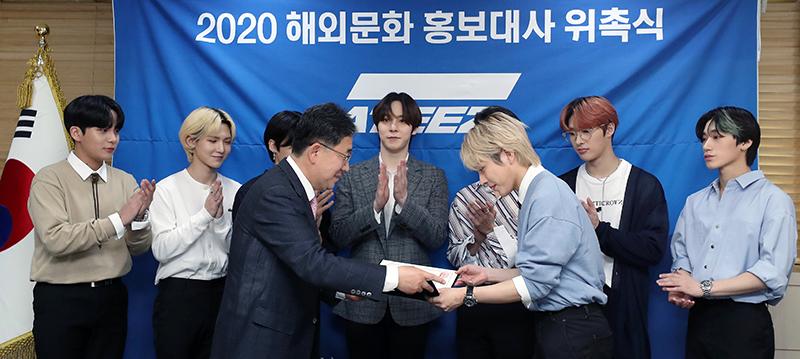 By Lee Kyoung Mi and Lee Jihae
Photos = Heo Man-jin, Ministry of Culture, Sports and Tourism
The Korean Culture and Information Service (KOCIS), an affiliate of the Ministry of Sports, Culture and Tourism, on May 8 appointed the eight-member K-pop group ATEEZ as the organization's 2020 promotional ambassador to promote Korea around the world.
The boy band succeeded fellow K-pop group Stray Kids, who served last year, to spread Korean culture worldwide and participate in Hallyu events such as Talk Talk Korea, an international Korea-related content competition hosted by KOCIS.
"I believe you are fulfilling the role of hundreds of diplomats in informing the world about Korea," said Minister of Culture, Sports and Tourism Park Yang-woo at the appointment ceremony held at the ministry's smart work center in Seoul's Yongsan-gu District.
"From now on, please feel proud of representing the Korean government and diligently inform the world about Korean culture."
ATEEZ leader Kim Hongjoong said, "As this is our first time being promotional ambassadors, we feel a sense of duty to do our best to widely promote Korean culture abroad."

As its first act as promotional ambassador, ATEEZ appeared in promotional videos for Talk Talk Korea and "Overcome Together," a campaign to introduce individual methods to prevent the novel coronavirus disease (COVID-19).
The videos are available on Korea.net's official YouTube channel (https://www.youtube.com/user/GatewayToKorea).
ATEEZ debuted in October 2018 with the album "Treasure Ep.1: All to Zero," which reached the Billboard World Albums chart in its first week of its release.
The group has held concerts in 15 countries including the U.S. and those in Europe, and actively communicates with fans both at home and abroad. Billboard columnist Jeff Benjamin once predicted that ATEEZ will follow in the footsteps of BTS as a K-pop leader of the next generation.