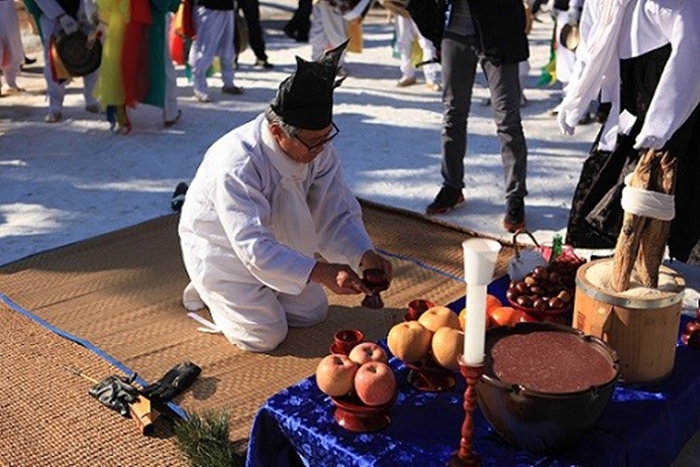 By Kim Young Shin 
Dongji (동지, 冬至), the winter solstice and 22nd of the year's 24 solar terms, falls this year on Dec. 22. This day has the shortest period of daylight and the longest night of the year.
The traditional ritual on dongji is cooking patjuk red bean porridge (팥죽), sprinkling it in various parts of a house and conducting the rite dongji gosa (동지고사, 冬至告祀), an offering of bowls of patjuk to household deities and at the family shrine. Afterwards, the porridge is served to family members. The color red was believed to have the power to ward off evil spirits lurking in the house.
Dongji also used to be called "little New Year's Day." A saying went that one grew only a year older after eating a bowl of patjuk on dongji. Though the exorcism rite is rarely practiced today, the porridge remains a popular dish eaten by Koreans on the day.
For those around the Seoul capital region who want to celebrate the winter solstice in a traditional way, the following are a few dongji events in the area.
The National Folk Museum of Korea, located next to Gyeongbokgung Palace in downtown Seoul, hosts a dongji gosa on Dec. 21 from 10 a.m. After the ritual, jisin bapji (지신밟기), a musical prayer to the god of the earth, will be performed. Visitors can also try red bean porridge here.
Seoul's Namsangol Hanok Village on Dec. 22 will feature folk dancers performing cheoyongmu, a mask dance believed to drive out harmful spirits. Those attending can also make lucky charms and sample patjuk at booths.
The Korean Folk Village in the southern Seoul suburb of Yongin, Gyeonggi-do Province, holds events from Dec. 22-23 allowing visitors to make and taste saealsim (새알심), or rice dough balls cooked with patjuk, and print good luck charms.
ysk1111@korea.kr