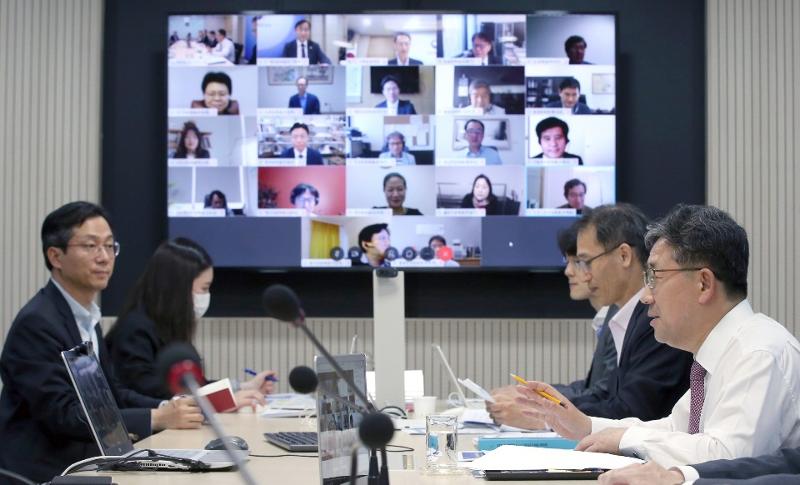 By Xu Aiying and Lee Jihae
Minister of Culture, Sports and Tourism Park Yang-woo on May 7 held a videoconference with the heads of 19 Korean Cultural Centers (KCCs) in 15 countries on the situation surrounding the novel coronavirus disease (COVID-19), the spread of Hallyu abroad after the pandemic ends and how to bring foreign tourists back to Korea.
"As our country effectively responds to COVID-19, the entire world is rediscovering Korea," he said. "Through this, we can link K (Korean)-quarantine, go further and connect new forms of Hallyu such as 'policy Hallyu' and 'medical Hallyu' with pop culture Hallyu, and provide a golden opportunity to elevate our nation's status by a level."
"Amid the COVID-19 crisis, KCCs are probably undergoing many difficulties in carrying out activities, but they must meet the heightened expectations and interests of people around the world by showing an improved Hallyu and opening new opportunities."
The KCC directors attending the videoconference said that because COVID-19 makes hosting on-site events difficult, they are holding non-contact activities such as offering video content on Korean culture like concerts, movies, courses and exhibitions.
They also made suggestions on spreading Hallyu in the post-COVID-19 era such as promoting tourism in Korea using the image of a "safe country," connecting the nation's proven quarantine capacity with medical tourism and using "K-culture closeness," a campaign highlighting the consumption of Hallyu content as an ideal activity when staying indoors.
"The non-contact lifestyle we're experiencing now is both a crisis and an opportunity for Hallyu." the minister said. "Online platforms were formerly a means of promotion, but we must now acknowledge and approach the platform itself as a new market."
"Social distancing has widened the distance among people in every country in the world, and I hope the KCC heads will take the lead in narrowing that distance through Hallyu content."