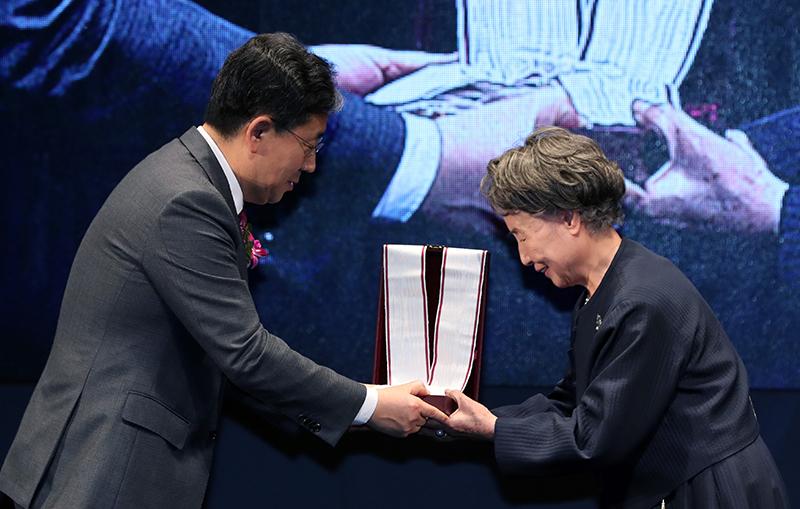 By Kim Hyelin and Kim Hwaya
Photos = Heo Man-jin, Ministry of Culture, Sports and Tourism
"Korea became a country that attracts empathy and love from people all over the world through content."
This is what Minister of Culture, Sports and Tourism Park Yang-woo on Dec. 11 said at the 2019 Korea Content Awards held at the Seoul COEX.
Saying he requested in November dozens of meetings with culture ministers whom he met in Europe, Park said, "(The culture ministers) were greatly interested in Korean cultural and artistic content and policy toward culture," adding, "This is the power of our content and I think this is evidence that the world's eyes and ears are focused on Korean content."
"I think the achievements of Hallyu (Korean Wave) over (the last) 20 years were possible thanks to the blood and sweat of creators who brought content to life within a poor environment."
The Geumgwan medal of the Order of Cultural Merit, the highest grade of the honor, was posthumously awarded to the late cartoonist Kim Seong-hwan. From 1955 to 2000, Kim penned the four-frame newspaper comic strip "Gobau" that featured modern Korean history including the Korean War, the country's industrialization and pro-democracy movements.
In 2013, the 10,743 sheets of paper Kim left were designated cultural properties, the first such honor for a cartoonist.
Excluding Kim, 33 people in six content fields won awards. Receiving presidential citations were Kim Su-hoon, the CEO of SAMG Animation who directed the animated work "Mini Force" that topped the ratings on China's CCTV14 this year, and Ryu Pil-gi from Hahoe Mask Dance Drama, who contributed to domestic and foreign cultural exchange through modern reinterpretations of cultural performing arts.