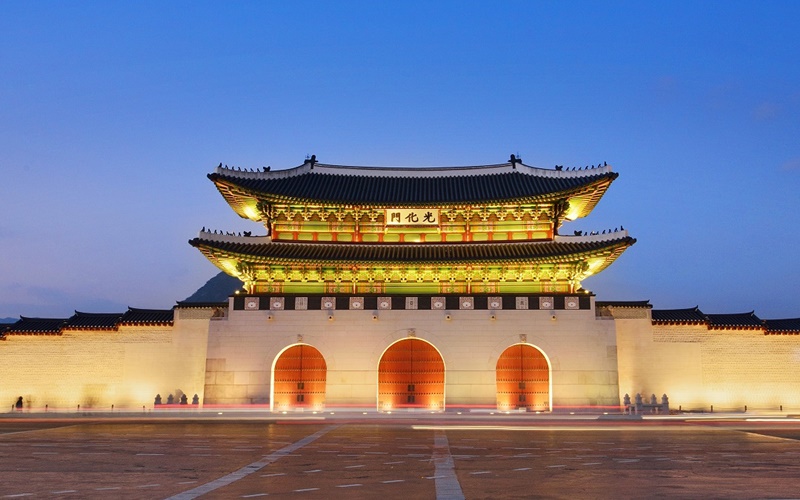 By Kim Yeojin and Joung Haseung
Visitors can walk along brightly lit architecture at night with the opening of an evening tour of Gyeongbokgung Palace in Seoul.
The Royal Palaces and Tombs Center of the Cultural Heritage Administration on Oct. 19 announced the launch of the tour of the top palace of the Joseon Dynasty royal family, where the king lived, to run from Oct. 21 to Nov. 29.
The tour is from 7 p.m. to 9:30 p.m. daily except Tuesdays, with the last entry being at 8:30 p.m.
The maximum daily number of visitors is 1,300, with 1,000 tickets available online and 300 at the palace's ticket office. Tickets are the same price as that for weekly admission at KRW 3,000.
The center and the Korea Cultural Heritage Foundation will also resume their palace cultural programs. Only fully vaccinated visitors whose second vaccine shot came two weeks before can attend on a reservation basis.
Along with the nation's representative palace-themed course "Moonlight Tour at Changdeokgung Palace," visitors can also try palace cuisine and experience Gyeongbokgung on the "Starlight Tour" and sample palace cuisine on the course "Saenggwabang of Gyeongbokgung."
The evening tour of Deoksugung Palace, "Seokjojeon at Night," opened on Oct. 20 and Changgyeonggung Palace's "Evening Party Performance" (unofficial translation) will begin on Oct. 23.