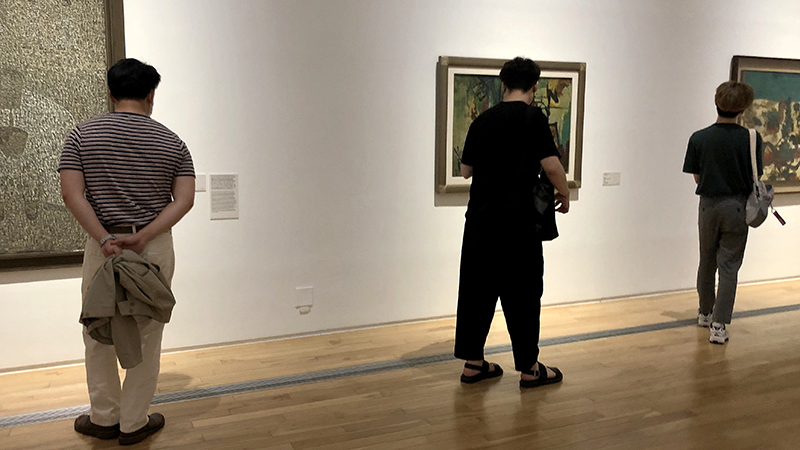 By Kim Minji
Photos = Kim Minji
Seoul ㅣ July 30, 2020
"Please keep your distance."
At the National Museum of Contemporary Art in Seoul's Jongno-gu district, staff could be heard telling visitors to practice proper social distancing.
Reopened on July 22 after being closed nearly two months due to the pandemic, museums and art galleries looked considerably different than before their temporary closure.
Staff at the museum entrance were busy conducting temperature checks on visitors. Everyone including workers and visitors reentering the facility had to undergo such checks every time they entered. After checking for temperature and respiratory symptoms, the visitors wrote their names, contact information and a declaration that they had read the information above. The arrows directing visitor flow were strictly divided for social distancing.
The museum is open from 10 a.m. to 6 p.m. daily, but just four groups of visitors are allowed per day for two hours at a time. The daily number of visitors is capped at 200, or the maximum number to maintain social distancing based on the size of the museum. The number of visitors per day, however, has decreased 30%.
To visit the museum requires a reservation, and museum staff said each day and time slot are always packed.
Since the number of visitors was limited, no waiting in line was required this day. A Korea.net reporter arrived at the museum at 2 p.m. and needed under three minutes to go from the entrance to the exhibition hall.
Reservations can be made by registering one's identification details on the museum's website. A visitor can also enter using a QR code received after registration. A number of canceled tickets are sold at the museum and slots also go to elderly visitors unable to use the internet.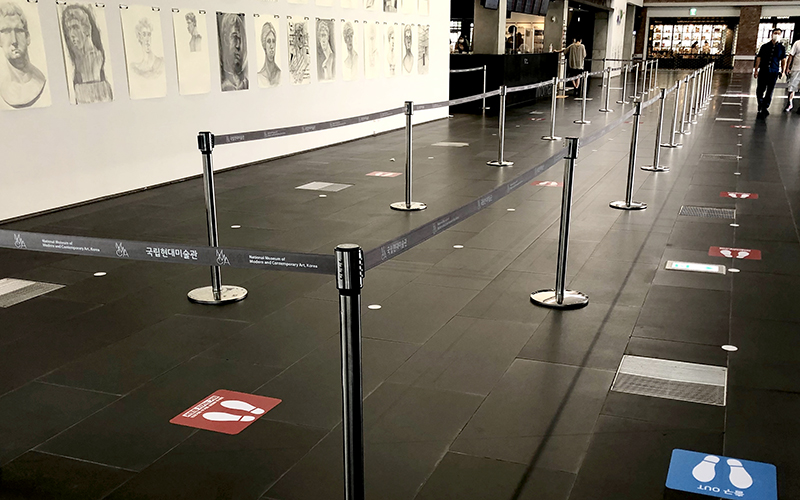 The exhibition halls also looked different. Since group tours were banned and the number of visitors limited, the halls were quiet. Visitors looked at artworks while maintaining a safe distance.
The museum also stopped its exhibition commentary service due to the coronavirus, so visitors listened to explanations via audio on top of the artworks and smartphone apps.
The reopening of art galleries was pleasant news for those forced to see online exhibitions. Ross Voss from the U.S. said, "I'd been waiting for the museums and art galleries to reopen since I came here in June. I've visited the National Museum of Korea and the National Palace Museum of Korea."
"It's really surprising to see that temperature checks are being effectively conducted and human traffic being well controlled."
Stickers reminding people to maintain social distancing were attached to benches and near art works requiring a closer look, and hand sanitizers were made available to promote personal hygiene amid the pandemic.
"Because visitors have waited so long, they are following quarantine measures quite well," said Kim Yoon-sun, a museum staff member for artwork management. "Sometimes I have to remind visitors immersed in seeing artworks or couples and families enjoying exhibitions not to get too close to each other."