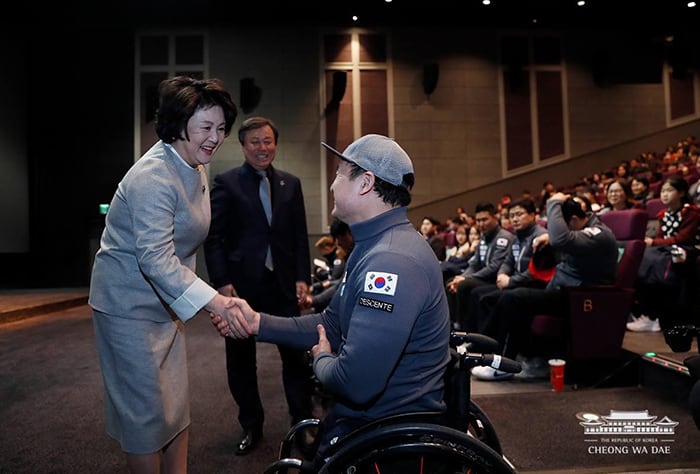 By Xu Aiying and Yoon Jihye
Photos = Cheong Wa Dae Facebook
With the PyeongChang 2018 Paralympic Winter Games less than three weeks away, a preview of the documentary "Parallel," featuring Korean para ice hockey athletes, was held on Feb. 19.
The movie, to be released on March 7, is about the Korean para ice hockey team that won the first silver medal ever by Korean athletes at the World Championships in 2012.
About 30 shots of actual games, filmed over three years, portray the miracles on the ice created through the sweat and tears of the athletes who experienced all the twists and turns of life.
First lady Kim Jung-sook visited the theater to watch the movie. Para ice hockey players Han Min-su, Lee Jong-kyung and Yu Man-gyun, who featured in the documentary, and their families, coaches and Paralympic volunteers were present at the event, as well.
First lady Kim wished all the best for Han Min-su, saying, "I wish you grab the medal at the Paralympic Games," on Feb. 19.
Ice sledge hockey, one of the six PyeongChang Paralympic sports, was designed to allow para athletes whose leg or legs are amputated to play ice hockey. They play sitting on a double-blade sledge instead of skates.
The Korean para ice hockey team is ranked third in the world, and is aiming to win a medal at the Winter Games in March.