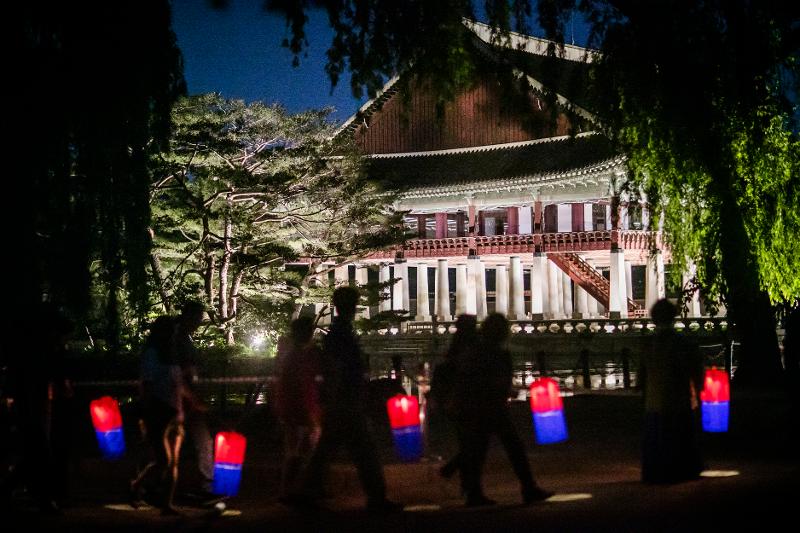 By Kim Hyelin and Lee Jihae
Photos = Cultural Heritage Administration
The Cultural Heritage Administration through Aug. 19 is hosting the Gyeongbokgung Palace Starlight Tour and the program "Sisikgonggam at Sojubang the Royal Kitchen" at the famed palace in Seoul, allowing visitors to enjoy a beautiful night view and royal cuisine.
The number of participants per tour is limited to 25 to prevent the spread of COVID-19, and each participant at a food event must maintain a distance of 2m from one another.
Since its inception in 2016, the evening tour has grown popular because of insightful  commentary from the guides, the opportunity to sample royal cuisine and the staging of traditional performing arts.
The tour starts with the ceremony for the changing of the royal guards, a tour of Donggung (the crown prince's space) and sojubang (the royal kitchen), and a traditional music performance. Then comes "Doseuk Surasang," a program on the daily meals of the king and the queen.
Afterwards, visitors are taken to Gyotaejeon (the queen's living quarters) to view a sand art performance on the love story between King Sejong the Great and his queen and a solo performance of traditional music at Gyeonghoeru Pavilion, a venue used to host feasts during the late Joseon Dynasty.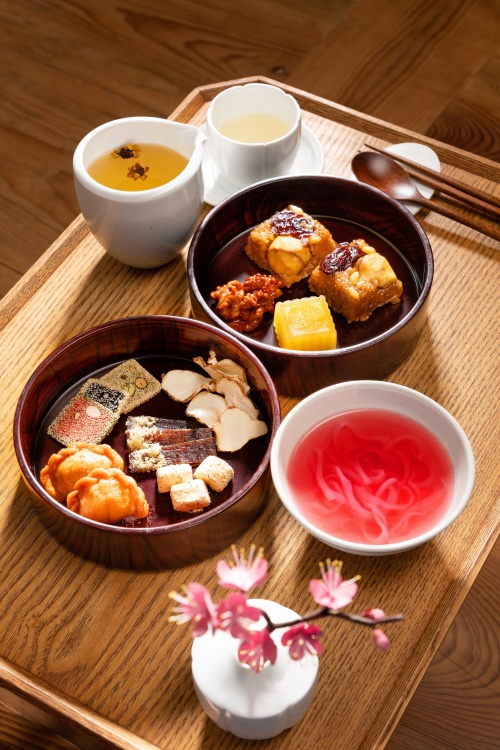 Unlike those on the starlight tour, Sisikgonggam participants do not go to the halls of Hamhwadang and Jipgyeongdang, where the royal concubines and court ladies resided, but they can try royal desserts.
The tour is held every evening from 7:20 p.m. to 9:10 p.m. or 7:40 p.m. to 9:30 p.m. The dessert program runs from 8 p.m. to 9:40 p.m. or 8:20 p.m. to 10 p.m.
Ticket sales will begin on Aug. 14 at 2 p.m. via the ticket website of Auction (ticket.auction.co.kr), with a limit of two tickets per person. The tour costs KRW 40,000–55,000 per person and Sisikgonggam KRW 20,000–25,000.
Seoul's four palaces of Gyeongbokgung, Changdeokgung, Changgyeonggung and Deoksugung and Jongmyo Shrine are open with free admission from Aug. 15-17 for the National Liberation Day weekend. Night tours of Deoksugung and Changgyeonggung are also free, complete with tour guides at all four palaces and the shrine.The shrine's time system for visitors will be lifted for the holiday weekend, allowing anyone to freely visit.