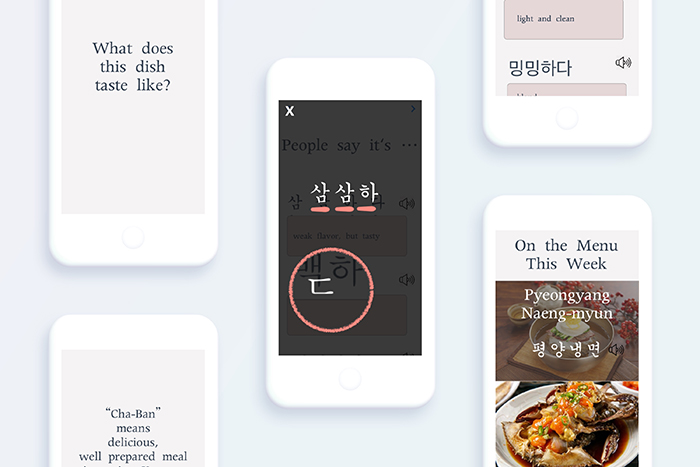 By Xu Aiying and Kim Min-Jeung 
Photos = Korea Creative Content Agency (KOCCA)
The winners of the Hangeul Idea Award, which was held to find the originality and beauty of the Korean alphabet, Hangeul, were announced on Oct. 2.
The contest, organized by the Korea Creative Content Agency under the Ministry of Culture, Sports and Tourism, was held from July 20 to August 20 and was divided into three categories, namely Content, Information Technology (IT) and Design. A total of 402 works were submitted from not only Koreans but also Non-Koreans.
The Grand Prize winner of the competition is Choi Eun seo's 'chaban,' which is an application developed targeting foreigners to introduce various Korean foods and their tastes as part of Hallyu, the Korean Wave, contents.
In the Contents Section, Kim Hyun shin's picture book that visualized the principles of Hangeul creation won the Runner-Up Award, whereas in the IT Section, a mobile game developed by India's Asian Retrospects team, called 'Hangul-A Quest for Origin' was selected. The game is about learning the history and heritage of Korea while saving Hangeul kidnapped by aristocrats trying to block its exposure to the world.
In the Design Section, Andrea Brugnera's design, 'Luce,' won the Runner-Up Award. 'Luce' lights up a Korean consonant and shines light on it so that it changes into a letter that signifies the meaning 'light.'
The winning entries can be viewed at the official website www.hangeulaward.co.kr The winners will be provided with further support such as patent application, advice from experts, opportunities for exhibitions and so forth.
xuaiy@korea.kr