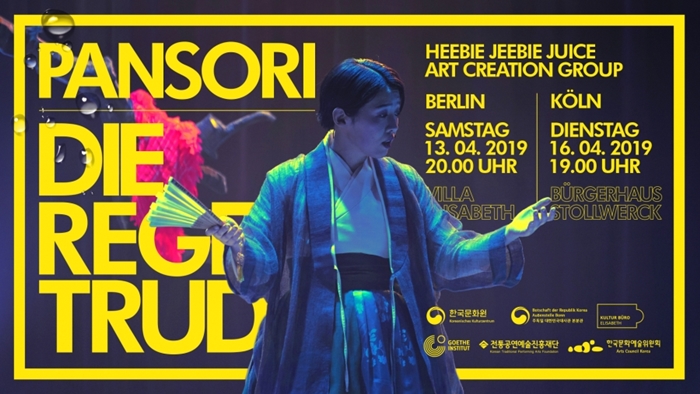 By Kim Hyelin and Lee Jihae 
Since 1979, Korean Cultural Centers (KCCs) have promoted Korea and its culture worldwide through hosting arts and cultural events. The 32 centers in 27 countries showcase and support Korean heritage and art exhibitions, traditional music and dance performances, and cultural activities such as Hangul, Taekwondo, gugak (traditional Korean music), calligraphy and cooking. The following is a schedule of KCC events for April.
Berlin, Germany 
Heebie Jeebie Juice, a performing arts troupe specializing in pansori (traditional Korean one-person lyrical opera) with a modern twist, will perform the piece "Die Regentrude (Rainy Spring)" for the first time in Germany on April 13 in Berlin and April 16 in Cologne. With the original story by 19th-century German writer Theodor Storm, the performance will have the troupe narrating using traditional Korean musical instruments and pansori.
https://kulturkorea.org/de/veranstaltungen/pansori-die-regentrude
Osaka, Japan 
The painting exhibition "Looking Back on Yu Gwan-sun" from April 11-20 at the KCC's Mirine Gallery will commemorate the centennial anniversary of the March First Independence Movement and the establishment of the Korean Provisional Government. About 40 paintings will feature Yu, who was a teenager in 1919 when she organized the movement against Japan's colonial rule of the Korean Peninsula. The paintings are by Kim Seok-chool, a Japanese painter of Korean descent.
http://www.k-culture.jp/info_news_view.php?page=1&cate=&number=1270&keyfield=&key=
Buenos Aires, Argentina
The fifth Buenos Aires Korean Food Festival from April 9-13 will feature Korean restaurants in the city on the event's first day offering samples of Korean street food. From April 11-13, invited Korean chefs will hold a dinner show at Saint Regis Restaurant featuring Korean dishes that are pleasing both visually and gastronomically.
http://argentina.korean-culture.org/es/464/board/191/read/96337
Brussels, Belgium 
Eleven Korean movies from April 9-11 will be screened at the 37th Brussels International Fantastic Film Festival (BIFFF). The event "Korean Movie Night" on April 16 will be held to commemorate the centennial anniversary of Korean cinema. In addition, the exhibition "Jeju Haenyeo" will open on April 25 at the KCC.
Featuring haenyeo, or female Korean divers on Jeju-do Island who are listed as a UNESCO Intangible Cultural Heritage, the event will display photos of the divers as well as their diving suits and implements used.
http://brussels.korean-culture.org/en/519/board/253/read/95684