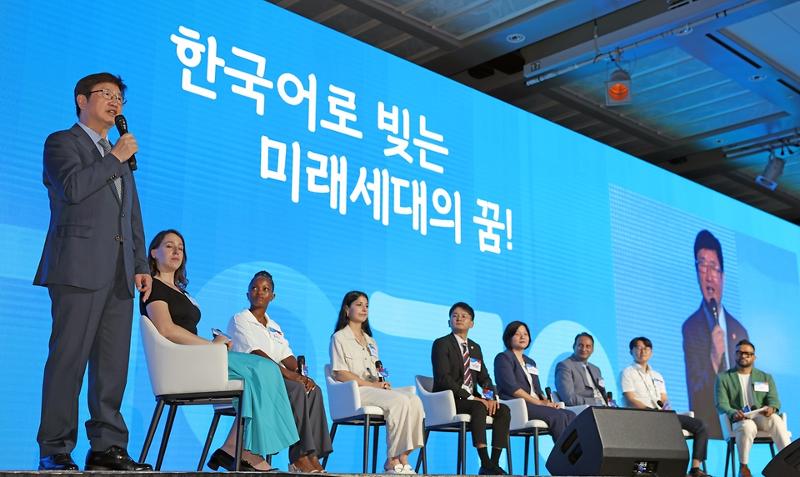 By Aisylu Akhmetzianova
Photos = Ministry of Culture, Sports and Tourism

The number of King Sejong Institutes, which teach the Korean language and culture abroad, will rise to 350 by 2027 with steady expansion of their educational infrastructure and network.

The Ministry of Culture, Sports and Tourism on Aug. 7 announced its "2023-27 strategy for globalization of the Korean language connecting future generations worldwide" at this year's World Korean Educator Conference opened at the hotel InterContinental Seoul COEX in Seoul's Gangnam-gu District.

The ministry said it will focus on and pursue five strategic agenda to boost Korean-language education abroad: establishment of a dense supply chain for Korean; consolidation of professional expertise in related education; learning Korean through Korean culture; learning Korean anywhere and anytime; and setup of a foundation for spreading Korean in regions and support for solidarity.

The plan is to also raise the number of King Sejong branches to 350 worldwide by 2027, with 350 instructors to be dispatched abroad and 500 staff in host countries to be developed over the four-year period.

The ministry will also boost the number of institute students both offline and online to 500,000 by 2027, a massive jump from 147,000 last year.

"Language demonstrates the strength to connect nations with other nations and people with other people and lays the foundation for solidarity and cooperation," Minister of Culture, Sports and Tourism Park Bo Gyoon said. "We will support the challenges and dreams of future generations, who play the role of appealing cultural bridges."

The conference ends on Aug. 10.

The first offline edition of its kind in four years due to the COVID-19 pandemic, the event seeks to encourage Korean-language educators worldwide and offer professional expertise like the latest teaching methods.