A subtle spring breeze passes through the wide-open hall and windows, flowing into the room. The distant sound of the crowd is muffled by the calm of the room. The king must have enjoyed his time here alone, here in his study, reading, learning and writing.
The Jibokjae Hall (집옥재, 集玉齊), built in 1891 in the northern corner of Gyeongbokgung Palace, was King Gojong's study room. The king used the hall as a meeting place as well when foreign ambassadors visited.
Now, some 120 years later, the king's study room has been turned into a public library and the Parujeong Pavilion connected to the study room is now a cafe. Marking the opening of the library, the Ministry of Culture, Sports and Tourism and the Cultural Heritage Administration held a celebration on April 27.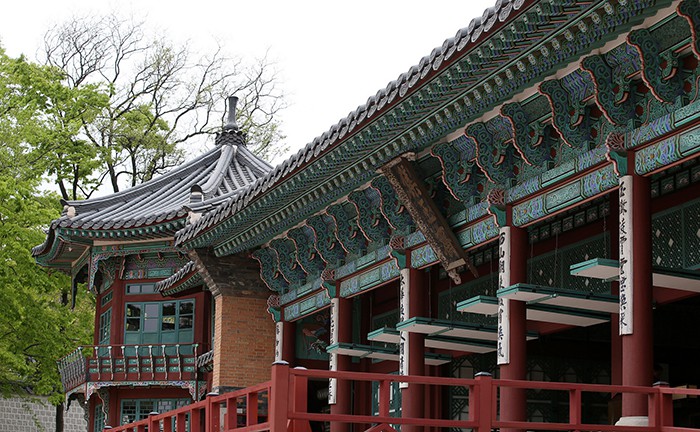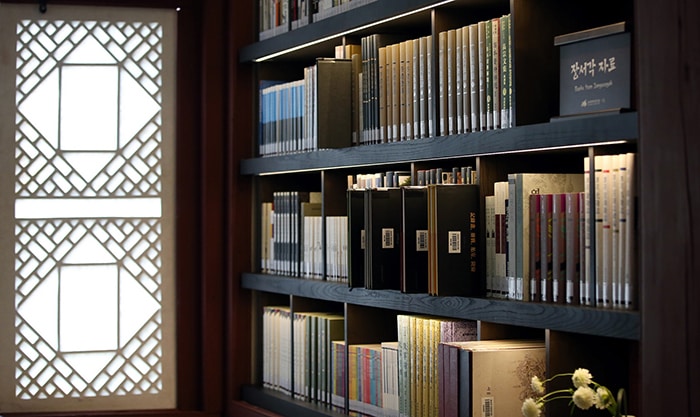 The library specializes in books about Joseon and the dynasty's royal documents, proclamations and publications.
About 1,000 books written about Joseon history, art, society and customs line one section, along with some 350 royal documents or publications. Artifacts that were originally kept in this study are on display alongside other royal items, such as a portrait of King Gojong and a first-place answer sheet from the state examination of 1660 during the reign of King Hyeonjong.
For non-Korean readers, about 230 books of Korean literature published in simplified Chinese, traditional Chinese, English and Japanese are on the shelves as well. In the library's hall and front yard, lectures and discussion programs are scheduled to take place. At the Parujeong Pavilion, a cafe connected to the library, royal teas and snacks are available with translated publications of Korean literature on sale.
As part of the opening ceremony, lectures presenting the history of the Jibokjae Hall and Joseon were held, alongside traditional dance performances. About 200 visitors, including nearby middle and high school students and the Minister of Culture, Sports and Tourism Kim Jongdeok attended the event.
"You can enjoy some tea and read the same books that King Gojong used to read, right here in the Jibokjae Hall, where the king used to read. This will be a different experience from the stereotypical tour that looks around the royal palace," said the minister in his opening remarks. The minister said that visitors will be able to learn about and understand the art and literature of Korea during their time at the library.
The Jibokjae Hall library is open to the public starting on the afternoon of April 28. The library is open from 9 a.m. to 6 p.m., except on Tuesdays when the palace is closed, and the last person is allowed in at 5 p.m..
By Chang Iou-chung
Korea.net Staff Writer
Photo: Jeon Han
[email protected]