By Jung Joo-ri
Photos = Kim Sunjoo

Global promoters of Korea have officially begun their activities this year following an induction ceremony in Seoul for Korea.net Honorary Reporters and K-influencers.

The Korean Culture and Information Service (KOCIS), an affiliate of the Ministry of Culture, Sports and Tourism, on May 19 held the event at KOCIS Center in Seoul's Jung-gu District to encourage the newly appointed foreign promotional ambassadors of Korean culture.

This year, the 13th class of 4,536 Honorary Reporters hail from 129 countries while the fourth of 1,930 K-influencers are from 105. Over a yearlong period, they will produce from foreign perspectives articles, photos and videos in their native languages to promote Korea to the world.

The ceremony's slogan "Beyond the K" referred to Korean culture's transcendence of national borders to spread worldwide. Attending the event were Second Vice Minister of Culture, Sports and Tourism Cho Yongman, KOCIS Director Kim Jangho and 60 ambassadors.

Neha, a YouTube content creator from India who will mentor K-influencers as a Korea.net creative director, was also on hand to share her know-how in content creation. Eighty other ambassadors abroad took part in the event through a webinar.

"Promotional ambassadors, who form the world's biggest Hallyu network, are Korea's precious friends," Vice Minister Cho said in his congratulatory speech. "We hope that these PR activists through the articles and videos they make spread Korea and its culture throughout the world."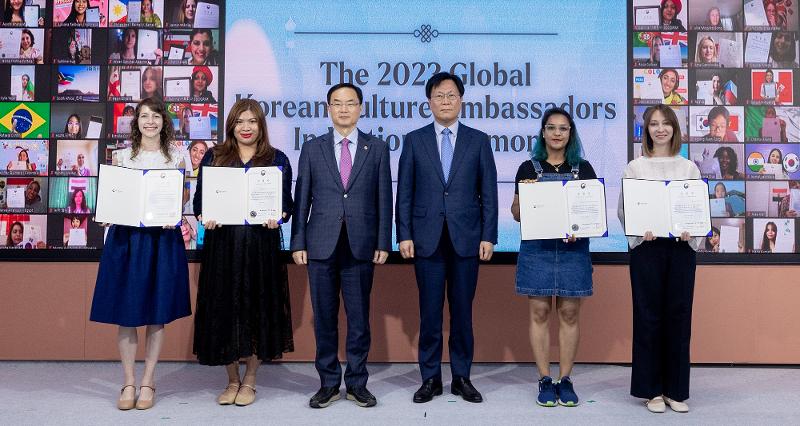 "It's been more than a year and a half since I came to Korea. Everything felt new and interesting, and I wanted to capture them on camera," Neha said. "Enjoying the process of making content is most important."

The ambassadors also received their certificates of appointment and announced their goals. Karina Gur, a former Honorary Reporter and this year's K-influencer from Germany, said she joined because she enjoys traveling and wants to produce and share videos on places in Korea she discovers.

Elisa Beaugeard, a French graduate student at Kyung Hee University in Seoul working on her master's in tourism, said, "I want to write articles shedding light on Korea's cultural heritage, the richness of its tradition and artistic expressions, and beauty."
Chafika Benhamma and Halla Chikhaoui of Algeria, two K-influencers who took part in the event through the webinar, called the ceremony "a good start for accessing Korean culture, history and language," adding that they will allow viewers of their channel in their country to feel and experience the real Korea.

"I can feel (the ambassadors') interest in Korea and passion for their activities," KOCIS Director Kim said. "We hope that each and every article and video that everyone makes is easily delivered to your friends and families to give them a lot of information on Korea."

The 74-minute event was livestreamed from 2 p.m. on Korea.net's official YouTube channel.

The number of viewers peaked at 10,180, with the cumulative number of views reaching 4,993.


etoilejr@korea.kr