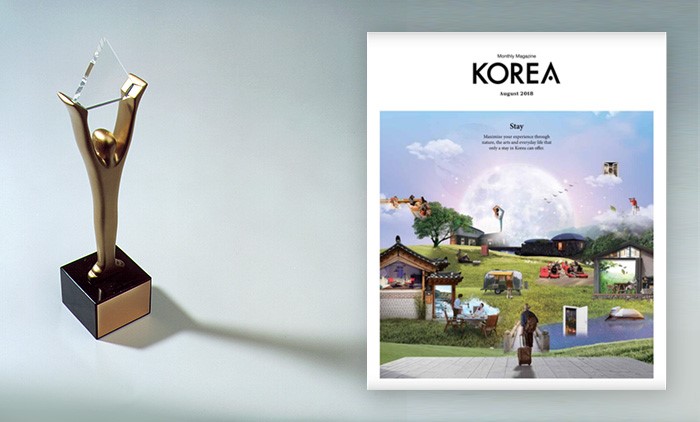 By Kim Young Shin and Hahm Hee-eun
KOREA, a monthly promotional magazine published by the Korean Culture and Information Service (KOCIS), part of the Ministry of Culture, Sports and Tourism, won two Gold Stevie trophies in the Government Award in the Publications Category and in the Best Email Newsletter Award in the Web Sites Category, and one Bronze Stevie trophy for Public Relations Award in the Publications Category. The International Business Awards (IBA), known as the Oscars for industries and organizations, bestowed the Stevie trophies.
KOREA magazine covers many aspects of Korea, from arts, food and tourism through to government policies. It is published on a monthly basis for local and overseas readers, both physically and online.
The International Business Awards Competition, which celebrates its 15th anniversary this year, is a U.S.-based organization that presents the Stevie Award. It's the only international convention that evaluates businesses across the globe in 16 categories. In 2018, more than 3,900 candidates from 74 countries applied, and they were examined by 270 business experts over two months.
The awards ceremony will be held at the Intercontinental London Park Lane Hotel on Oct. 20.
A representative from KOCIS said, "This award will contribute to promoting high-level Korean arts and heritage to other countries, and to improving the national status of Korea through the content and form of the magazine. With these awards, we will do our best to promote and enhance the image of Korea in the future."
KOREA is published in English at the KOCIS website (http://www.kocis.go.kr/eng/openPublications.do) and at the government's multi-lingual website (http://kstore.korea.net/publication) as a PDF. The website version of the magazine is also published at the KOCIS website (http://www.kocis.go.kr/eng/openWebzine.do).
You can subscribe to the website version of the magazine at the link below:
http://www.korea.net/Others/Subscribe-to-Koreanet/KOREA-Magazine
ysk1111@korea.kr