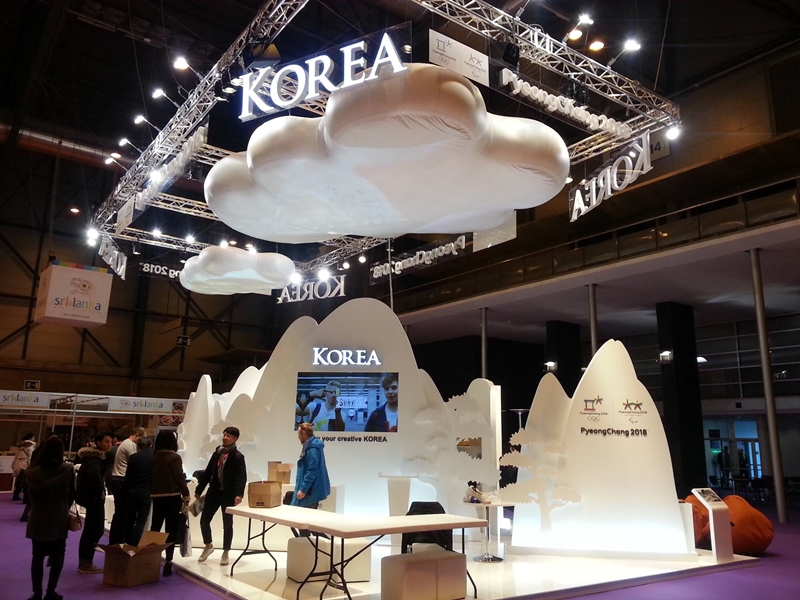 By Kim Hyelin and Kim Minji
FITUR, or the International Tourism Fair to be held in Spain from Jan. 22-26 next year, will feature Korea as a partner country, the event's first from East Asia.
The Ministry of Culture, Sports and Tourism on Sept. 19 said Korea's promotional booth at FITUR in Madrid will cover 320㎡, six times bigger than that of last year.
During the exhibition period, the ministry will promote the country using social networking services with Spanish media and hold a news conference with the International Foreign Exchange Master Agreement, the host of the event. Efforts will also go toward promoting tourism in Korean by displaying the country's leading images at major facilities in downtown Madrid.
FITUR implemented its partner initiative in 2016 and has focused on heavily promoting the tourism industry of a partner country in each event. The designation is also expected to have a positive effect on bilateral relations since next year will mark the 70th anniversary of diplomatic ties between Korea and Spain.
Considered one of the world's top three tourism exhibitions along with the International Tourism Bourse in Berlin and the World Travel Market in London, FITUR in January this year attracted 140,000 tourism officials and 110,000 visitors from 165 countries.
A ministry official said, "Through Korea's participation next year, we will increase tourism exchanges between Korea and Spain and also expand travel to the Korean market by promoting the appeal of visiting Korea to the tourism industries of Europe and Central and South America."