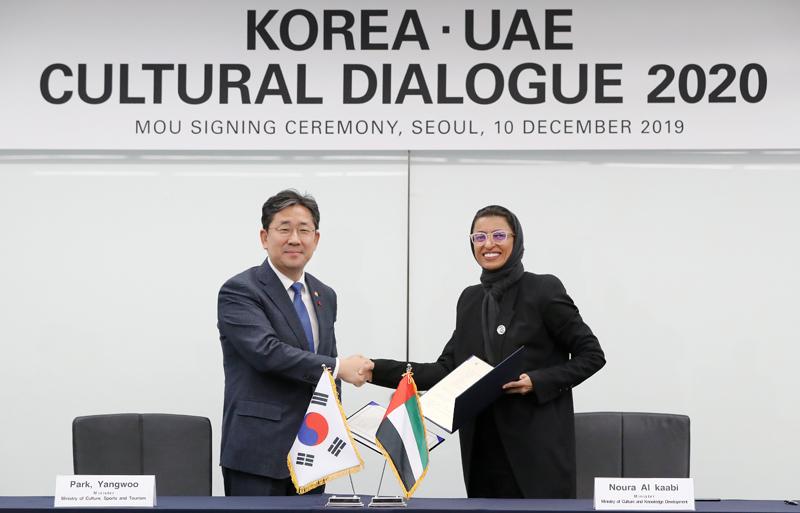 By Kim Yeong Deok and Lee Jihae
Seoul | Dec. 10, 2019
Photos = Heo Man-jin, Ministry of Culture, Sports and Tourism
Korea and the United Arab Emirates (UAE) have designated 2020 as a year of bilateral cultural exchanges to mark the 40th anniversary of diplomatic ties.
At the Museum of Modern and Contemporary Art in Seoul on Dec. 10, Minister of Culture, Sports and Tourism Park Yang-woo and UAE Minister of Culture and Knowledge Development Noura Al Kabbi signed a memorandum of understanding (MOU) on the measure, setting the basis for elevating the cultures of both countries by a step.
"While keeping its basis on age-old traditional culture, Korea is accepting various cultures and communicating with world cultures through Hallyu (Korean Wave)," Park said.
"With the year of Korea-UAE mutual exchanges coming in 2020, I hope that both countries prepare to continuously conduct exchanges in various fields such as culture, arts and the culture industry and that the cultures of the two nations prosper."
Al Kaabi said, "The efforts put behind the signing of this MOU will result in bilateral cultural exchanges," adding, "The signing of the MOU will make bilateral relations future-oriented."
The Korean Culture Ministry seeks to elevate bilateral cultural exchanges through the MOU and focus on spreading Hallyu throughout the Middle East. The Korean Cultural Center in Abu Dhabi next year will also host K-pop concerts, exhibitions of contemporary Korean art and gugak (traditional Korean music) performances.