By Lee Kyoung Mi and Lee Jihae 
Photos= Lee Kyoung Mi 
Tokyo | May 10, 2019
The Korean Cultural Center (KCC) in Tokyo is celebrating its 40th anniversary this year as the first of its kind opened in the world through a host of events.
Launched on May 10, 1979, this KCC, now one of 32 in 27 countries worldwide, has played a crucial role in bringing Koreans and Japanese closer through culture.
The first event to mark the anniversary was the exhibition "Monochrome Monologue," which opened on May 9 at the KCC in Tokyo. Featuring 75 black-and-white traditional Korean craftworks such as ceramics, gat (traditional hats worn by male Korean aristocrats) and lacquerware drawers, the display was a scaled-down version of the exhibition held in April during the 2019 Milan Design Week in Milan, Italy.
The some 100 government officials, artists and citizens attending from both countries included Korean Culture and Information Service (KOCIS) Director Kim Tae-hoon, Miyata Ryohei, commissioner of Japan's Agency for Cultural Affairs, Kazumi Murose, a master of ancient Japanese lacquerware and designated by the Japanese government as a "Living National Treasure," and the exhibition's art director, Korean fashion designer Jung Kuho.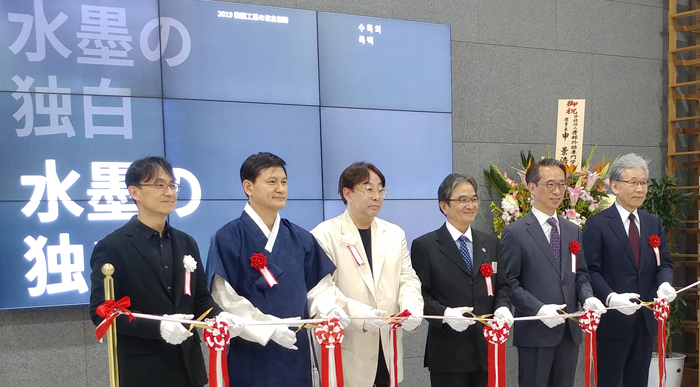 KOCIS Director Kim said, "Korea's choice of Japan as the site for the first-ever Korean Cultural Center shows that Japan is our most important cultural companion and collaborator."
"I hope that the Korean Cultural Center in Tokyo continues to serve as a cultural bridge between both countries."
Lacquerware master Murose said, "When I first heard of the exhibition's title, I thought it was about ink-wash paintings. So I was quite surprised to find out that it's a display of handicrafts. This twist showed me the acumen and freshness of Korean artists."
The concert "Sounds Are Dancing," held on the evening of May 10 at Hanmadang Hall in the KCC in Tokyo, featured Japanese and Korean artists performing traditional dances and music from both countries. Highlights included traditional Korean performing arts such as samulnori (percussion music), dongnae hakchum (crane dance) and sogochum (dance with small drums).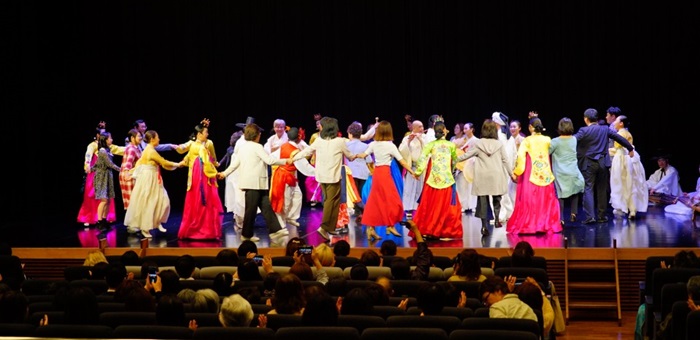 Afterwards, noh (traditional Japanese theater) superstar Shonosuke Okura and stone flute virtuoso Kazuya Yokozawa teamed up with a Korean music troupe. Okura played the traditional Japanese drum and Yokozawa the flute, while the troupe played the Korean drum and gong.
In the final event, both Korean and Japanese artists sang "Arirang," the traditional Korean folk song, and performed the Korean group dance ganggangsullae.
KCC Tokyo chief Hwang said, "Our Korean Culture Center will continue promoting Korean culture in and conducting cultural exchanges with Japan by organizing joint exhibitions and performances."
"We plan to focus on attracting not only the middle-aged crowd, who are the original Hallyu fans, but also younger ones."